Life Unexpected Review: "Formal Reformed"
at .
Life Unexpected brought us back to high school last night with the winter formal. Strange that it is March and we are now just celebrating the winter formal, but hey, it did make for a good drama filled episode!
"Formal Reformed" made us really not like Baze - which is unfortunate because we secretly wanted him to end up with Cate.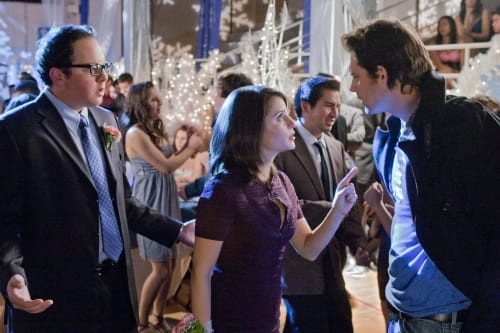 Can we first just say what scummy low-life one would have to be to sleep with her sister? What is wrong with him? From previous episodes we know that he has feelings for her, and this is how he shows his undying love? Ugh! 
This is the first episode ever that we not only took Cate's side 110%, but having Cate relive her high school traumatic experience really made us dislike Baze even more. He said he has changed, but his actions clearly speak volumes that he is still the dumb high school jock that he once was.
Now, let's discuss Lux.
Lux has her choice of two young men. One is the preppy Abercrombie boy next door and the other is a tattooed motorcycle driving torchered soul - bad boy. We really had to think about this one.
On one end you have the guy that would treat her right and just about adore everything she did and probably give her the world. On the other you have someone who gets where she came from, who she is, and would also do anything for her.
Both of these boys are super cute - so which one would you choose for Lux?
This is like having to choose between Dylan and Brandon for Kelly. We always did root for Brandon, but this time around, we aren't quite sure yet.
All in all the winter formal was everything we had hoped it to be - and more! (How cute was Bug all dressed up bringing her flowers!?)
Until next week, we leave you with a few of our favorite Life Unexpected quotes after the jump!
Cate: You're wearing a shirt that says Tap that.
Baze: You're wearing a small garden on your wrist. | permalink
Baze: Jones you stand up little dude - my ass. | permalink
Abby: There are many ways to get the same feeling without actually having sex. Flexible shower heads, vibrating back massagers, the spin cycle of a washing machine.. | permalink
Lux: I'd rather eat paste. | permalink