Last week, Jet and Cord looked unbeatable.
This week? Let's just say our opinion hasn't changed much.
The entire leg seemed tailor-made for the cowboys, something Carol and Brandi complained about at the roadblock.  While it certainly isn't 100% fair, neither is life, Brandi.  Jet and Cord appropriately pointed out that they are not complaining (you get the sense these two have complained about something maybe once in their life) about how unfair it is that Carol and Brandi speak Spanish, but they do not. 
Considering that the while race has been in Spanish-speaking countries so far, that's a far bigger advantage than Jet and Cord running into a steer roping challenge on one leg.  Imagine, however, if the detour involved riding real horses instead of the practice one.  Jet and Cord might have been a half of a day ahead of the other teams.
Jet and Cord's biggest advantage, however, is their calmness.  They never seem flustered or hyper and always approach everything methodically.  Upon arriving at the detour they correctly asserted that trying to find something in a field could take far longer than riding a horse.  The only other teams able to figure that out as quickly were Steve and Allie and Dan and Jordan and each team benefited from the realization.
Beyond decision-making, one of the most important traits on the race, historically, has been to have fun.  It's been a while since The Amazing Race has cast a team of pure jokesters as it did in the beginning seasons.  The duos that are able to joke around with each other during the race and keep each other loose always do better than the teams who are uptight. 
How great was Cord's ribbing of Jet for missing the steer on the first throw?  Even Jet's self-effacing comment about how embarrassing that was funny.  Teams are frequently in too much of a hurry, but Jet and Cord took a moment after completing the Horse Power detour and winning their trophy to make light of the prize, look into the camera and thank their parents and the Lord as if they just won Olympic gold.  
It is for this exact reason that I'm still high on Dan and Jordan as a team.  Admittedly, one of them is going to have to learn how to drive a standard car to get ahead in the race or they're risking being on the edge of being eliminated too often.  However, Jordan does a great job of keeping things light for the team, constantly cracking jokes and not being so singularly focused on racing.  Even if his idea to wear the black polo shirts because they matched their pants was absurd, it was hilarious and prompted a great exchange between the two:
Dan: "I'm not trying to look cute…"
Jordan: "I am!"
In between Jet and Cord and Dan and Jordan is the team I really can't figure out: Jordan and Jeff.  I'm not sure any team has made more mistakes in the first three legs of the race, but still managed to finish first, sixth and fifth, respectively. 
Jeff struggled at the roadblock today, both of them butchered the detour and they still finished fifth?  How?!?!  Even when Joe and Heidi tipped them off to what they were doing wrong (Joe asked Jeff where the train station was), they still couldn't figure it out.  Jordan and Jeff certainly seem like nice people, but their intelligence was summed up nicely by Jeff, "I don't think we should reproduce," and Jordan's confused reaction (I'm not sure she understood what he meant).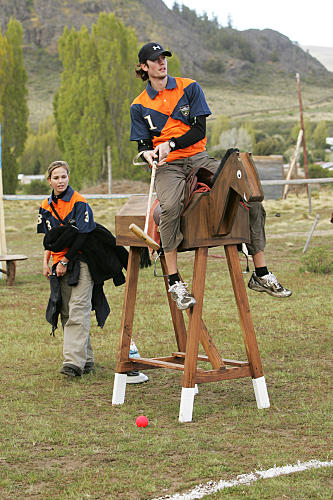 I'm sorry, but I was happy to see Monique and Shawne go.  Maybe I'm a chauvinist, but I'm so tired of the girl-power and mom-power teams on the race.  Why are so many female oriented teams on the race to prove to the world or their kids that women or mom's can be strong too?  Shouldn't you be on the race to win a million dollars and your partner, who just happens to be female as well, is the person you think you'd be best equipped to do it with?  From the get go when they called themselves Momtrepreneurs I knew they were in trouble. 
No team who's out to prove a gender issue has ever done well.  Carol and Brandi may be annoying, but they're not on the race to prove that lesbians or women can win the race.  They just want to win the race and so far they're doing a decent job.
As I mentioned earlier, last week I wondered if any team could challenge Jet and Cord.  This week, I think we got our answer: Steve and Allie.  Though Steve has to fight off his advancing age he is likely more fit than the average 57-year old because he spends his life around baseball players as a coach for the Philadelphia Phillies. 
What works for this team is his strength (he man-handled the Horse Power challenge) and her youth.  While his being away from his daughter because he's with the team likely hurts their relationship, they clearly have a "happy to be there" mentality on the race because they're getting to spend so much time together.   So far they've avoided any bickering or mistakes.  Jet and Cord look out!
While South America has been beautiful to see, I'm ready to move to another continent.  Hopefully it is not Europe – the race has spent so much time in Europe the past few seasons.  Long plane flights to Africa or Asia to mix the race up.
Some questions to consider heading into the fourth leg:
When will Jeff and Jordan's mistakes catch up with them?
Can Louie and Michael get out of their own way to move up?
Has Dan finally learned how to drive a standard car?
Will Steve think that Brent is Phillies pitcher Cole Hamels and try giving him some tips on his cutter?
Can Steve and Allie challenge Jet and Cord for Amazing Race 16 supremacy?