The Vampire Diaries Review: "A Few Good Men"
Steve Marsi at .
Last night's return of The Vampire Diaries was so anticipated by us, it couldn't possibly live up to expectations ... right? It came pretty darn close, reminding us again why it's moved beyond CW guilty pleasure status and become one of the best shows on TV.
It's been six weeks since Damon, Stefan, Elena entered the tomb, a journey that rocked all the characters' worlds in one way or another. In Thursday night's "A Few Good Men," the show's characters were similarly linked again - by various ties to Elena's real mother.
A couple of side plots unraveling are worth mentioning as well. Harper, the mystery vampire from the tomb, somehow knows Pearl and Annabel, who are both expecting his arrival at their hideout. He also killed some guy and marvels at modern technology.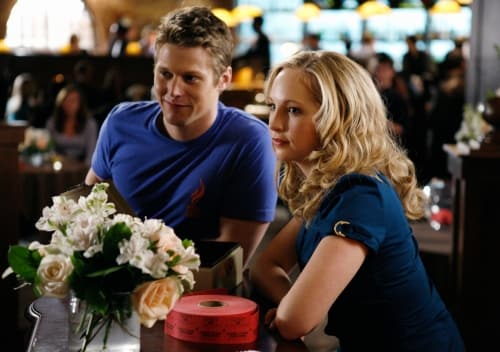 Caroline and Matt may be kind of dull, but his mom rules.
Meanwhile, Matt's mother Kelly (the amazing Melinda Clarke of The OC fame) arrives in Mystic Falls just as Matt and Caroline are about to ...well, Kelly's obnoxious behavior sort of took over from then on, and it was great. She's got beef with Caroline's mom.
We're curious to see where they take her character, whose vulnerable side was exposed when she revealed her latest boyfriend dumped her and she needs Matt for support.
Which brings this morning's review to the crux of the episode, which really killed (literally and otherwise), and where the bulk of the action took place. Thanks to an LOL-worthy in-show advertisement for Bing.com, Elena, Stefan and Alaric dig up info on Isobel.
Elena's birthmother and Alaric's late wife sharing the same name? No coincidence. It's also no accident that Isobel's BFF Trudie is aware of vampires and has vervain on hand.
Naturally, this being The Vampire Diaries, we may never get to the bottom of Trudie's real story since she gets whacked by a mysterious man. One door opens, another shuts ...
Just the same, Elena uncovers the truth about her mother, Isobel, amidst the bachelor auction fundraising project of the Founders Council, thanks to The Bachelor star himself.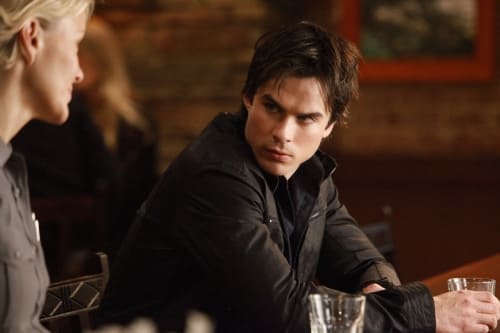 No, not Jake Pavelka. Damon. He deserves a capitalized The Bachelor before his name, right? After he deliberately blurts out that he met Isobel and she was "delicious"?! Wow.
Even more amazing than Ian Somerhalder's acting - the raffle scene with Damon rubbing it in Alaric's face was tremendous - is that his assertion of killing her isn't even true!
It turns out Isobel is:
Alive
Wanting absolutely nothing to do with Elena
Also a vampire, at least according to Damon
The dramatic conclusion, following these revelations, comes when Alaric attacks Damon, who nonchalantly stabs him, then sits back and chills so he can watch him bleed out.
However, much like in the tomb, when he left and more was revealed to viewers later, Damon exits the room and all of a sudden, Alaric's fingers twitch ... and he gets up!
For a second, we thought that somehow Alaric was a vampire too, or had blood in his system somehow, but the guy has got a magic ring, courtesy of Isobel. Point, Alaric!
All in all, the episode was slow-building at times, but that was necessary to set the tone for weeks to come, and there were still plenty of twists and edge-of-your-seat action.
Additional thoughts and questions:
Bonnie was absent, presumably due to the death of her Grams.
The obligatory shirtless, wrecked Damon Salvatore shot? Nice!
A flashback reveals that Isobel is fascinated about the mysterious deaths in Mystic Falls and is aware of the vampires' presence. What do you think she knows?
Damon reveals that Isobel came to him and begged him to turn her into a vampire since she wasn't happy with her life anymore. Do you think that's even true? Like Ben on Lost, it's great to have a character you can't entirely believe.
We want to hear what you thought of last night's return of The Vampire Diaries? Share your comments with us below and vote in our survey as well:
Steve Marsi is the Managing Editor of TV Fanatic. Follow him on Google+ or email him here.