Dancing with the Stars saw its single highest individual score of the season Monday, courtesy of Nicole Scherzinger's saucy 29 in the tango, while other familiar faces filled out the evening's scores on both ends of the spectrum during the hit show's "Movie Night."
Evan Lysacek's 27 in the rumba showed that once again, he is the only one capable of stopping Nicole's march to the title if we are going squarely on merit.
We're not, of course, this being Dancing with the Stars. But those two are head and shoulders above the rest, so it will be hard to halt their collision course.
In the second tier in Week Five were bona fide hotties Erin Andrews and Maksim Chmerkovskiy, along with a pants-free Jake Pavelka and Chelsie Hightower: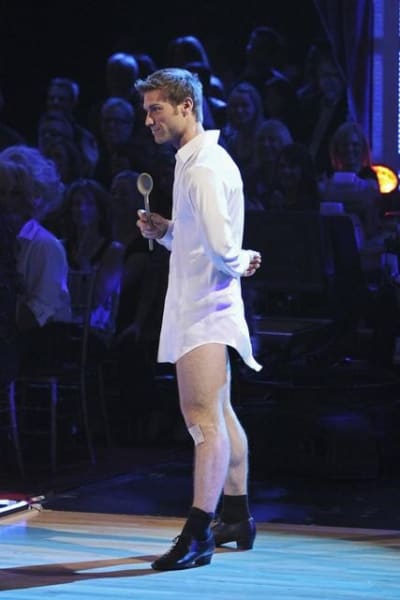 The Bachelor in no pants. Fantasy suite not included.
At risk on Dancing with the Stars during this evening's subsequent results show are Kate Gosselin (of course) and fellow bottom feeders Chad Ochocinco and Neicy Nash.
Can the fans deliver Kate yet another bailout and send one of the other mediocre pairings home instead? You know ABC is fixing the votes hoping and praying for it!
Follow the jump for the couples' scores from week five of the competition ...
Nicole Scherzinger & Derek Hough (Tango) - Score: 29 (10, 9,10).
Evan Lysacek & Anna (Rumba) - Score: 27 (9,9,9).
Jake Pavelka & Chelsie Hightower (Cha-Cha) - Score: 23 (8,7,8).
Erin Andrews & Maksim Chmerkovskiy (Jive) - Score: 22 (7,7,8).
Pamela Anderson & Damian Whitewood (Quickstep) - Score: 21 (7,6,8).
Niecy Nash and Louis Van Amstel (Jive) - Score: 18 (6,6,6).
Chad Ochocinco & Cheryl Burke (Quickstep) - Score: 18 (6,6,6).
Kate Gosselin & Tony Dovolani (Foxtrot) - Score: 15 (5,5,5).
Who do you think will be eliminated on Dancing with the Stars?
Steve Marsi is the Managing Editor of TV Fanatic. Follow him on Google+ or email him here.