Meeting the Grey's Anatomy cast was already a dream for rising star Demi Lovato. Now it's come true, with the 17-year-old actress acting right along side them!
"The first two actors I met were Justin Chambers and Jessica Capshaw, and I was like, 'There's Karev and Arizona!' Then I met Patrick Dempsey," she recalled.
On a tour of the hospital set for her May 13 guest role, she picked up a patient's chart and pretended to make rounds. But Demi's not playing a med student.
Instead, she will be portraying a frightened patient named Hayley, who might suffer from schizophrenia. See claw marks in this photo obtained by TV Guide ...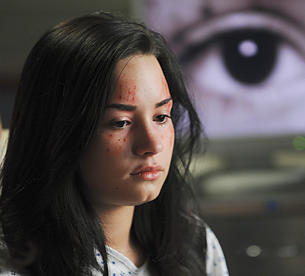 A relatively new fan of Grey's Anatomy, Lovato began catching up on the series during breaks on the set of Camp Rock: The Final Jam, her Disney Channel sequel airing in July.
"Grey's is a dream role for her," says Camp Rock co-star and real-life boyfriend Joe Jonas. "It's great people are going to see her do different things. I'm really proud of her."
The episode will also showcase just how good a doctor Karev has become: "Alex has definitely worked on his bedside manner," says Chambers, whose character will continue his workout between the sheets with Lexie, now that he's divorcing Izzie.
As we said last week, Justin Chambers has come into his own this season as Alex, and unlike some cast members, wants to stay right where he is indefinitely:
"With five kids, I don't want to be traveling from one show, one film to the next. I want to stay here and watch my kids grow up. Grey's Anatomy is a good job for my lifestyle. I like it here."
No complaints here.
Steve Marsi is the Managing Editor of TV Fanatic. Follow him on Google+ or email him here.