As a rather harsh critic of Heroes, I'll try to deliver this news with the stoicism of Tom Brokaw:
NBC is seriously considering renewing the show for a fifth season.
Primetime President Angela Bromstad made that announcement this week, as she spoke to reporters about the network's recent pick-up of Parenthood.
Asked about other shows on the bubble, specifically Chuck and Heroes, Bromstad indicated that each would receive a 13-episode order for the 2010-2011 season.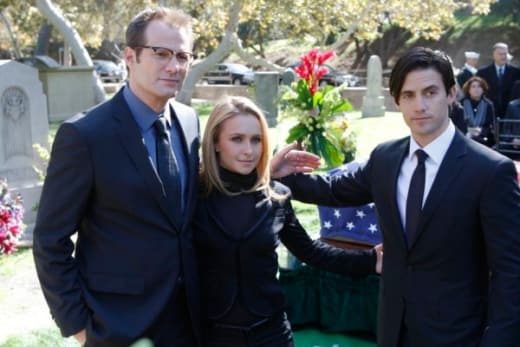 Seen here, HRG, Claire and Peter are sadly NOT attending the funeral for Heroes.
"It is all yet to be debated," she said. "Both of those shows make sense with the new shows we'll be bringing on."
They do? What new shows will NBC be bringing on? True Hollywood Stories: Terribly Constructed Dramas That Make Everything Up As They Go Along and the Networks That Won't Cancel Them?!?
Matt Richenthal is the Editor in Chief of TV Fanatic. Follow him on Twitter and on Google+.