Gregory House as a hero?
Despite the fact that this doctor saves lives on a regular basis, that's not typically a description one would use for the man.
But House producer Katie Jacobs explains that's how viewers will see the troubled former Vicodin addict on the show's season finale.
"The finale is sort of a very unusual circumstance in that it [deals with an emergency] outside of the hospital," Jacobs told EW.com. "Every doctor in the area is basically called because it's a genuine, immediate, tragic situation. Fans can expect to see a heroic House, and that's not lost on Cuddy at all."
Will this finally lead to the Huddy relationship we've been clamoring for? Let's hope so!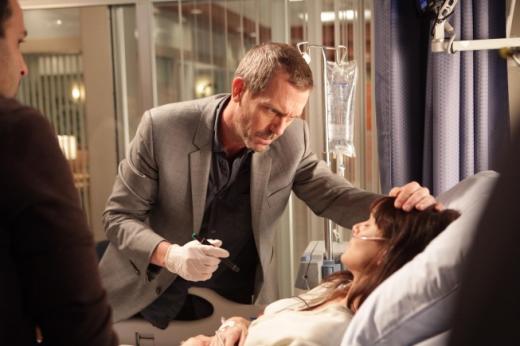 Before that possibility is even broached again, House will air a new episode on Monday, Aril 26.
It centers again on Wilson and Sam's burgeoning relationship, while also featuring Sarah Wayne Callies as a patient with seemingly routine symptoms... but an unorthodox lifestyle.
As always, we'll recap and review this episode soon after it airs, updating TV Fanatic with the latest House quotes. Until then, check out a few photos from "Open and Shut" below:
Matt Richenthal is the Editor in Chief of TV Fanatic. Follow him on Twitter and on Google+.