Life Unexpected Review: "Father Unfigured"
at .
With only one episode left for this season, Life Unexpected is definitely not holding back on the emotions!
We enjoyed pretty much every part of "Father Unfigured" last night. What was surprising for us was how much we liked seeing Cate with Baze!
Baze definitely lost points when he hooked up with Cate's sister, but he gained back more than we expected when told Cate the truth - even though he knew she would be mad at him - and stayed - even after learning that Lux lied to him about her intentions for the road trip.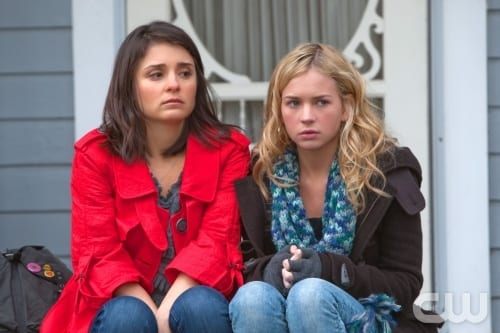 It looks like Baze really is cleaning up his act!
Right now, if we would had to choose one person for Cate, it would be Baze. There's a lot of weight on the fact that he is Lux's father. How cute was it when they all got back from the road trip wear the same corn-dog sweater? That scene really tugged at our heart strings!
It was a tough choice for us to make, but something has to be said for Cate's feelings as well. She definitely feels something for Baze and if she truly was madly in love with Ryan, it would be only him. No one else.
Something makes us believe that next week, she will not go through with the wedding! What do you think? Team Ryan or Team Baze?!
We also liked that the writers delved deeper into why Cate is the way she is. We were already fans of her, but this storyline really made her character more real in our eyes. It seems that all her life she has struggled with not having a father and the moment that she thinks she has got him back into her life, everything unravels again.
No matter what any woman or girl says, every daughter wants to have a father in their life. There is something so special between that bond. The fact that Cate finally let that wall down, only to have the harsh reality of her father not wanting to be in her life, made this show even more real. Not everything in life is roses and lilies.We just hope that things really work out for our main lady.
We really liked the way the episode ended with Lux telling her parents that she loves them and wants to be fully adopted. What did you think? Did you expect her father to be the jerk that he was?
Until next week's season finale, we leave you with our favorite Life Unexpected quotes after the jump!
Cate: Thank you for being there.
Baze: Always. | permalink
Cate: All this time I've been blaming Baze, like he's the only one who has left me. I thought he was the one that wrecked me - you were. | permalink
Cate: Dad, I've always acted like no having a father wasn't a big deal, but it was. | permalink
Cate: Did you just sniff me? | permalink
Cate: Every girl pictures her father walking her down the isle. I can barely even picture my father. | permalink
Baze: We're just a couple dudes trying to change. | permalink