It was the 200th episode of South Park and Matt Stone and Trey Parker had plenty of material to cover in its 12 year history as a fun throwback episode.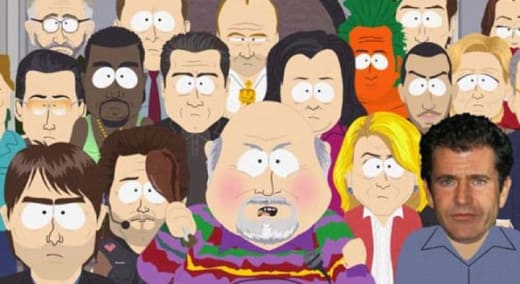 The premise started off simple: Stan called Tom Cruise a fudge packer on a school trip, prompting Cruise to gather the "200" celebrities that South Park (the town, of course) has insulted over the years.  From there the episode moved to to bringing back Muhammad, "Mecha-Streisand," the gingers, the Mitch Connors slash Jennifer Lopez hand, Mr. Hat, and questioning Cartman's true father.
While we've had the luxury of reading other reviews before posting ours this week, we see the rest of the Internet did not seem to be a fan.  We have to tell you, after being loyal fans of this show since the start, there was so many throwbacks it was impossible not to love.
Rather than being a lame clips episode, every joke that was re-explored found plenty of new material.  Plus, plenty of celebrities got all new jokes at their expense, particularly Tim Burton and Jimmy Buffet.
We also very much enjoyed the fact that the guys recognized the fact they had shown Muhammad back in the 2001 Superfriends episode, despite claiming not be able to show him the 2005 episode, and of course, in this episode as a central plot point. 
How times have changed since this show made its debut 200 episodes before.  Besides not being able to show Muhammad, we now got to see Mecha-Streisand in all her terrifying 3-D glory.
Now we're curious if South Park will actually conclude its cliff hanger episode next week, or like the last time they left us with a cliff hanger over Cartman's father, we'll just get a Terrance and Phillip episode.
Our favorite South Park quotes from the episode after the jump.
Butters: How come you're packing fudge, Mr. Cruise? | permalink
Tom Cruise: Jimmy buffet, how would you like it if no one could call your music drunken frat boy, monkey garbage?
Jimmy Buffet: I'd love it. | permalink
Tom Cruise: Imagine it, Tim. No one could rip on you for all the rehashed movies you've made lately. There'd never be a TV show that pointed out you haven't had an original thought since Beetlejuice. And you put Johnny Depp and the same crappy music in every film. And if you're so in love with Johnny Depp you should just have sex with him already. No TV show could ever say that.
Tim Burton: Gee, that'd be swell. | permalink
Joseph Smith: Boys you need to understand that people get very offended when Muhammad is mocked because he's a religious figure.
Jesus: Buddha! Don't do coke in front of kids! | permalink
Eric Hochberger is the programmer of TV Fanatic, so please forgive his mediocre writing. His programming is far better. Follow him on Twitter and/or email him. Just don't request threaded comments. They're coming.