Next week's, Evil Wil Wheaton returns to The Big Bang Theory. He'll take on rival Sheldon in a bowling showdown.
But that's not the only unusual development that will take place on the April 12 episode, titled "The Wheaton Recurrence." As pictured below, the show's geek squad will end up in "superheroine drag," as described by producer Bill Prady.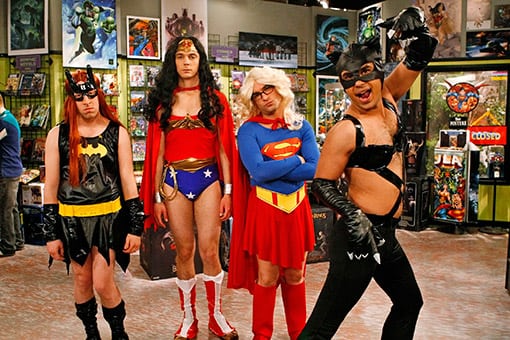 What leads Simon Helberg to dress as Batgirl, Jim Parsons to take on Wonder Woman, Johnny Galecki to make like Supergirl, and Kunal Nayyar to do his best Catwoman impression?
Prady wouldn't give anything away. But he did tell Entertainment Weekly the following:
"I will say: this is not the worst thing that happens to someone in this episode."
Matt Richenthal is the Editor in Chief of TV Fanatic. Follow him on Twitter and on Google+.