After spending twenty one years of committing heinous crimes on the citizens of Springfield, last night C. Montgomery Burns finally went to jail for the first time in the show's history.  So what finally put the show's main "villain" away?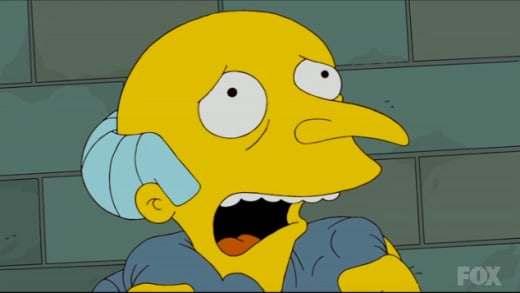 Is it a crime to want nice things and then to steal them from a public museum where any gum-chewing monkey in a Tufts University jacket can gawk at them?  Turns out, yes.  Because that's exactly what put Mr. Burns away.
While much of the actual prison scenes of "American History X-Cellent" were a parody of The Green Mile, a movie the show has already parodied seasons prior, they were surprisingly still funny since they involved one of our favorite characters on the show.
The jokes at this man's age and sheer amount of evilness never get old.  "I haven't had a cavity in over 40 years!"  Really though, some of the most clever jokes were actually at the narration's expense, including Mr. Burns day dreaming about some commercials.
Smithers running the power plant and becoming more evil than Burns wasn't really fleshed out, but any plot line that involves Homer lifting up his shirt to reward Smithers is going to work for us.  Overall, the main story line was great.
Unfortunately, Bart and Lisa were given a weak side story, where really the only funny moments we can recall was Lisa telling Bart they need to keep the lines of communication open for organ transplants and Bart licking Lisa to try and earn her forgiveness.
It was a decent episode that was saved by the always excellent Mr. Burns.  Our favorite of The Simpsons quotes from the episode after the jump.
Mr. Burns: The power plant's new annual Fourth of July picnic is this upcoming Saturday.
Homer: Woohoo!
Mr. Burns: I'm afraid you misunderstand. This picnic is for me, you will all be spending your Independence Day slaving away in the hot summer sun with no pay, lotion, or gratitude. | permalink
Moe: Get your throwing stuff! Turn the protest into a riot!
Milhouse: How much for a tomato?
Moe: Fresh stuff for a dollar. Rotten is two bucks.
Kirk: Son, do you really need the rotten? I mean, it's not like you're actually gonna hit him. | permalink
Guard: It's time for a cavity search.
Mr. Burns: Oh, I haven't cavity in forty years.
Guard: I wasn't talking about your teeth.
Mr. Burns: Nor was I. | permalink
Mr. Burns: And that's where we came in. Now, without further ado, here's what happened next. But first, I'll daydream about a sport utility vehicle, a crispy chicken sandwich, and a wonderful blue pill! | permalink
Eric Hochberger is the programmer of TV Fanatic, so please forgive his mediocre writing. His programming is far better. Follow him on Twitter and/or email him. Just don't request threaded comments. They're coming.