The first half of this week's episode started slowly, as Stefan was hooked on human blood, but denying it to Damon and Elena.
But "Miss Mystic Falls" soon picked up the pace and Paul Wesley sent Ian Somerhalder a message: two can play scary!
Indeed, viewers were treated to a flipped script. Damon tried to act like the responsible brother, on both the vampire front and the romance front, while Stefan oscillated between fun-loving and downright frightening.
Wesley played this role perfectly, especially when it came to depicting Stefan's internal struggle. Damon may have learned to control his feeding habits and actually embraces his dark side... but Stefan still wants to fight it, scaring himself as much as anyone else when the urge kicks in.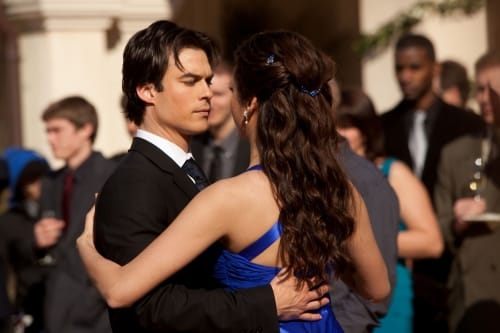 Delena took a major (dance) step toward becoming a reality on "Miss Mystic Falls."
Did anyone actually think he'd bite into Amber?!? So many other shows would feature their protagonist battling various demons, yet stop him from going too far, have him seek help, turn his life around. You know, the usual pattern of addiction of television.
But not The Vampire Diaries. It often crosses lines that other programs won't touch, as it was legitimately startling to watch Stefan give in to his desires. (He was "frickin hungry," after all.)
He didn't stop himself, either. Bonnie was required to use her powers to finally get Stefan away from Amber, a nice touch that added to this character, as well. Elena's BFF hasn't just returned to Mystic Falls with a new haircut; she has new depth and a new attitude following her grandmother's death. I found her more interesting last night than ever before.
The episode does gets points deducted for one reason, though:
After building up Frederick and other vampires released from the tomb, it's a bit lame if they're actually just gone now. I'll reserve full judgment until we see if they return over the next few weeks, but it already feels like wasted potential to focus on a rival group of blood suckers for a couple episodes and then write them off via a few words from Anna.
On a positive, Anna-related note, the show has done a great job developing her and Pearl. Each started off vicious and self-serving, but we've slowly seen their human sides develop and are intrigued by the peace offering Pearl gave to Damon: Should we assume this invention is the one Uncle John is after?
It seems that way, as he's not a man that cares about the presence of vampires. I doubt he'd have interest in the pocket watch detector Pearl meant to steal. This begs an obvious question: What does the invention do?
A few notes and observations from "Miss Mystic Falls" before we let readers sound off on the episode:
Do you find it easier to be on Team Damon now? The song he and Elena danced to was "All I Need" by Within Temptation. You can purchase it via our Vampire Diaries music section. (Sample lyrics: "Can you still see the heart of me/All my agony fades away/When you hold me in your embrace.")
How about Team Anna? Are you feeling her connection to Jeremy?
Congrats, Caroline! We're so happy for you, but it's too bad Matt wasn't around to share in your beauty pageant triumph.
No Tyler this week. Will the show ever follow up on his werewolf storyline?
What did you think of the episode? We've posted a bunch of The Vampire Diaries quotes from it below:
Stefan: The blood brings out what's inside of me. If you think any differently, you're an idiot. | permalink
Damon: Today has been a no-good, very-bad day. | permalink
Stefan: I don't hurt people. I don't do that. I'm the good brother. | permalink
Damon: I'll sever your hand, pull your ring off and kill you. Do you understand that? | permalink
Damon: You spent the last century and a half being the poster child for Prozac. Now you want me to believe this new you has nothing to do with human blood. | permalink
Stefan: The blood? It doesn't change anything.
Elena: It's changing you. | permalink
Matt Richenthal is the Editor in Chief of TV Fanatic. Follow him on Twitter and on Google+.