The Vampire Diaries Review: Welcome Uncle John, Stefan's Dark Side
Matt Richenthal at .
For the second consecutive week, The Vampire Diaries concluded with Stefan drinking a dose of human blood.
But if last Thursday's reaction was one of self-loathing and panic, this episode ended with a wholly different set of feelings from Stefan: power and satisfaction. What will that mean for his relationship with Elena, Mystic Falls and, heck, himself?
That issue was at the center of "Under Control."
While the episode wasn't packed with action, it was chock full of character development and questions, most of them surrounding Stefan's new state and a new member of the Founder's Council: Uncle John Gilbert. Let's delve into the issues I'm wondering about, following another stellar installment of the show...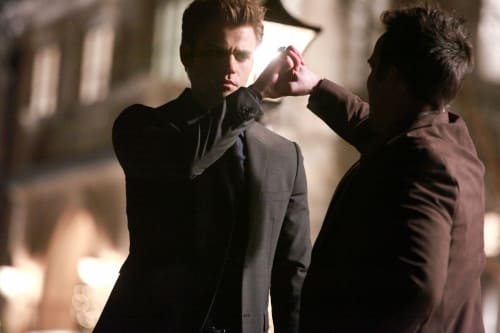 What was Stefan's previous experience with human blood? Early on, Damon told us that if we don't think there's "another part to this," we haven't been paying attention. Elaborate much, dude?!? Stefan was clearly trying to hold himself back from giving into his cravings, but we weren't told exactly why. There's definitely a dark incident in his past, one we can't wait to explore.
Isn't it refreshing to get this new side to Stefan? Alaric said it last night: the guy is a vampire, remember. He's almost been too nice up until this point. We're interested to see where it's all going.
How does John know everything? I had to actually rewind by DVR to catch every piece of information John tossed at Alaric and Damon. He and his dad inherited the magic rings (from whom?!?); he gave one to Isobel; he directed Isobel to Damon; he knows about Katherine and the tomb.
Wow. That's a lot to digest. Damon referred to John's arrival and his knowledge about vampires as a "global crisis." He may dub it that for now, but would anyone be shocked if Damon eventually teamed up with John? The guy will do anything for news on Katherine, and it's not hard to imagine John manipulating Damon to get what he wants.
The question, of course, remains: What does he want?
Will Stefan continue to fight against his addiction via wifebeater-wearing push-ups?
Let's hope so.
Is Tyler a werewolf? The show hinted at this weeks ago and then dropped the issue. Heck, it practically dropped Tyler altogether until last night. That's understandable, as there are only so many storylines and characters the series can juggle at once. But let's not slow play this too much, writers. There's a fine line between drawing developments out in order to build up mystery and suspense... versus ignoring them for so long that viewers simply stop caring.
Will we ever see Mrs. Donovan again? Let's hope so. Melinda Clarke is outstanding in that role.
What does Jeremy know? The answer, I presume, is everything. That's what happens when you read your sister's diary (her vampire diary, to be exact). From revelations about how Vicki died, to what Stefan and Damon are, to all Elena has been keeping from him, it's impossible to know how Jeremy will react to everything. In the past, he may have just taken drugs to escape from it.
Now? He'll take action. But against whom? And in what manner? Those questions will be answered as the season goes on, but this is my guess:
A key character will die on the season finale, that has already been confirmed. Through involvement in the situations he just discovered, I predict it will be Jeremy.
What did you think of the episode? What questions and topics are on your mind as a result of watching it? Sound off now, and check out a few Vampire Diaries quotes from last night:
Damon: We have a problem, Stefan. And when I say problem, I mean global crisis. | permalink
Stefan: I have this hunger inside of me that I've never felt in my entire life. | permalink
Alaric: You think John knew Isobel?
Damon: I think John knows a lot of things. | permalink
Damon: Have I entered an alternate universe where Stefan is fun? | permalink
Elena: The Gilberts aren't crazy.
Jeremy: Easy for you to say, you're not one. | permalink
Alaric: I think Stefan is a good guy. But at the end of the day, he's still a vampire. | permalink
Matt Richenthal is the Editor in Chief of TV Fanatic. Follow him on Twitter and on Google+.