If next week's promo in all its dramatic, potentially torturous glory weren't exciting enough, wait until you see what potentially lies ahead in Mystic Falls, Virginia, a bit later this month.
On The Vampire Diaries' April 22 episode, Elena finds herself competing for the "Miss Mystic Falls" title. That alone would be worth seeing, but wait 'til you see who her date is.
The Founders' Day gala includes a traditional dance, where at the last second, none other than Damon Salvatore is recruited as her partner. Check out the sexy photo of the pair below.
You don't think Damon and Elena could ... would ... you know? Right?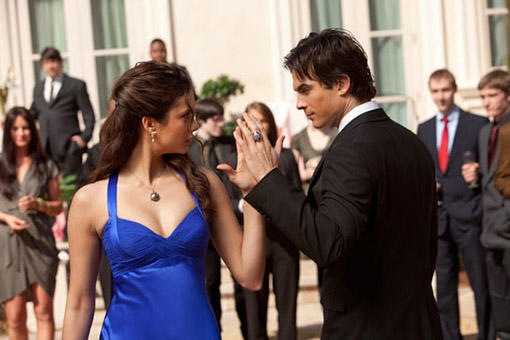 Elena and Damon in April 22's "Miss Mystic Falls."
The episode synopsis reads as such: "At the Founder's Day Gala, Elena and Caroline compete for the title of Miss Mystic Falls"against other girls from town, including Tina Fell (guest star Autumn Dial) and Amber Bradley (guest star Spencer Locke)."
Meanwhile, there are these developments: "Elena is happy to have Bonnie back in town, but Bonnie still has issues to work through. John Gilbert (guest star David Anders) attempts to intimidate Damon, but his plan doesn't have the desired effect."
Finally, and perhaps most intriguingly, there's this teaser: "Damon discovers that Stefan may be hiding a dangerous secret that could impact everyone in town."
Any theories on what that might be? Share with us below. Also, don't forget to take part in the second edition of our new Vampire Diaries Caption Contest, and we always welcome you to discuss all things related to this great show in our Vampire Diaries forum!
Steve Marsi is the Managing Editor of TV Fanatic. Follow him on Google+ or email him here.