Davis: You tell me all you wanna do is get high, play trumpet and barbecue in New Orleans your whole life?
Kermit: That'll work.
How do you follow up what many consider to be the greatest TV show in history?
That's the challenge David Simon had in front of him when he to create Treme, HBO's new drama that premiered last night.
One thing is for certain, following a viewing of "Do You Know What It Means." This is not The Wire. In fact, it's not like anything else we can think of on television.
Forget character studies. Treme is a city study. It focuses on New Orleans, three months after Hurricane Katrina hit. Two characters (a married couple, one a professor and the other an attorney) are the only ones that overly criticize the government and the way the crisis was handled.
In all other instances, Treme gives various individuals a platform on which they simply live their lives, while providing viewers with an intimate glimpse into the devastation caused by Katrina.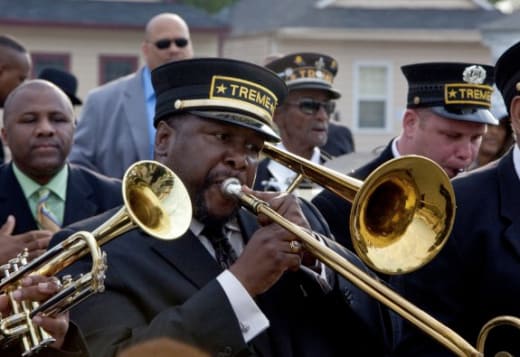 Does the drama have an agena? Of course. John Goodman's Creighton refers to the flooding of New Oreleans as "a man-made catastrophe. A federal f**k-up of epic proportions."
But what's wrong with an agenda? Anyone that tuned in last night had to be aware of what the series was about. As someone that's spent time in New Orleans, working for Habitat for Humanity, I have no problem sounding trite or getting up on a high horse:
The city is still suffering. Any attention paid to it can only be a positive thing, especially when the person paying that attention is responsible for a ground-breaking program such as The Wire.
Similar to that iconic show, Treme is clearly slow-moving. But the shows differ in that The Wire attempted to humanize drug dealer, to show every nuance and every angle of a troubled community.
We may yet meet an evil politician, or Treme may still take us inside the local police force, but interviews with Simon have made it clear that New Orleans is the star. As the final shot of the series premiere depicted - a camera, at a funeral, panning back to reveal a diliapidated neighborhood - there's plenty of sad, important material to mine from the city itself.
Below, we've collected a few Treme quotes from the episode. What did you think of it?
Albert: Welcome. To the city that care forgot. | permalink
Davis: You can't throw me out. I'm your boyfriend. Kind of. Maybe not on a consistent basis. But I'm a friend... with benefits. You find me charming. | permalink
Davis: This is New Orleans, dawg. Police ain't gonna come. If they do, they'll start shoving us out of the way and looting. | permalink
Ladonna: I ain't seen my brother since the storm. None of us have. | permalink
Creighton: It's NPR. The N stands for "nuance." | permalink
Creighton: The flooding of New Oreleans was a man-made catastrophe. A federal f**k-up of epic proportions. | permalink
Matt Richenthal is the Editor in Chief of TV Fanatic. Follow him on Twitter and on Google+.