Smallville has been renewed for a 10th season.
But this good news comes with a caveat: Not all characters will return for it.
Producers have told Michael Ausiello that a major cast member will be killed off on the May 14 season finale. Who is especially vulnerable? Let's take a look at a few of the potential victims...
Chloe: There's a lot of Chloe ahead this spring. But Allison Mack doesn't have a contract for next season. That's a major red flag. Also, her character doesn't exist in the DC Comics universe? She'd be easy to eliminate in that regard.
Lana: Indeed, Kristin Kreuk was rumored to be on on the Smallville set last month.
Perry: We know he's returning this season. But might he not stick around for long?
Martha: See above. Replace "he" with "she."
Oliver: Would be as shocking a death as that of Jimmy Olsen last year. But just because it's unexpected, doesn't mean it's impossible? Need proof? See Olsen, Jimmy.
Tess: Michael Rosenbaum is unlikely to return as Lex because he's attached to a new show. That doesn't bode well for his character's placeholder.
Zod: Probably the strongest odds. After all, he's this season's major villain - and there's only one month remaining in the season.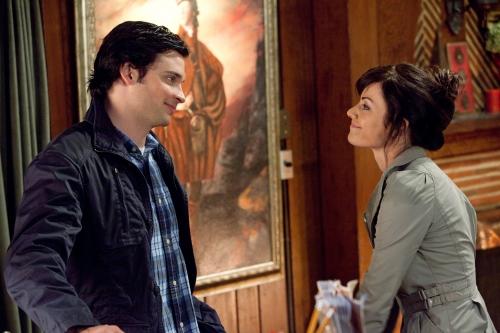 Clark and Lois are safe. All other Smallville characters? They are fair game for the Grim Reaper.
Matt Richenthal is the Editor in Chief of TV Fanatic. Follow him on Twitter and on Google+.