The following review takes place between 6:41 a.m. and 6:58 a.m. Words are written in real time...
For seven and three-quarter seasons, Jack Bauer was an American hero who stopped at nothing to save lives and protect his country.
Now, he's ending his run on 24 as a revenge-fueled traitor who is putting everyone at risk.
There's no other way to interpret the ridiculous turns that have taken place as this Fox drama limps to a conclusion. For the second consecutive week, an episode lacked any suspense because there are no lives actually at stake - and because Jack has actually made this decision:
It's more important to bring a few Russian officials to justice than it is to ensure peace in the middle east.
This stands against everything that has made Jack so enthralling to watch over the years. This was a man who would torture and lie and scheme and go to any length to save American citizens. Now? He's angry that Renee is dead and defying the President, Chloe and all that are thinking clearly enough to focus on the big picture.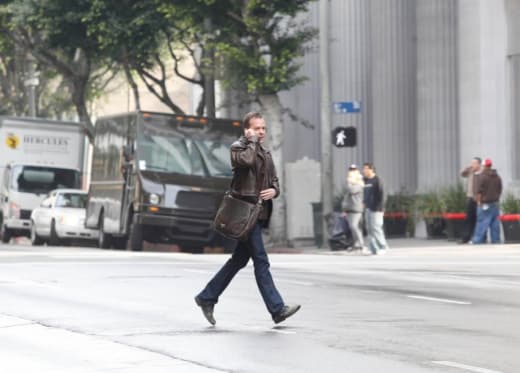 In other words: please arrest Jack Bauer. If this were happening in real life, I could live with a few Russians getting away with a foiled plot over the disintegration of a global peace accord. But, hey, that's just me.
As someone who has watched everyone second of every season and defended 24 over the last couple years, this incredibly depressing to watch. I had always hoped the show would end with Jack giving his life to save millions of people. Nothing would be more apt.
Instead, we already know Jack will live because producers talk openly about a 24 movie, and I keep coming back to this same point: THERE ARE NO LIVES AT STAKE!
After everything Jack has gone through and the show has been about, its final storyline doesn't revolve around any imminent threat. That's amazing.
Think about this: if the show ends with Jack simply using the evidence Dana gave him this week and exposing the Russians - thereby bringing President Taylor down in the process - will that feel remotely satisfying? Worthy of a series conclusion? As if Jack really did something heroic for the the country and the world?
The only development that saved this episode from receiving a negative rating is the fact that Jack shot Dana. Thank goodness! I was afraid this new, soft Bauer would actually just arrest her or let her go.
I just wish he'd executed her 17 episodes ago and saved us from the worst B-storyline in 24 history.
I also wish the writers would have realized that pitting an intense Freddie Prinze Jr. against an intense Kiefer Sutherland is simply gonna make the former look silly. The scene where Cole shoved Jack to the ground and where he face shook in anger was more humorous than suspenseful.
In closing, President Taylor might be a worse example of a strong woman than any contestant on The Bachelor. She has no idea what she's doing and simply listens to the last person to offer her advice. Hmmm... I should put some random dude I just met in charge of CTU because you said so, even though the last course of action you recommended didn't work out? Okay, Charles!
What did you think of the episode? Are you actually invested in Jack's mission, or do you wish more was at stake as 24 ticks down to its end?
Matt Richenthal is the Editor in Chief of TV Fanatic. Follow him on Twitter and on Google+.