Brothers & Sisters Season Finale Review: Sifting Through the Wreckage

Steve Marsi at . Comments
On the season finale of Brothers & Sisters, the Walkers finally uncovered the mystery of Narrow Lake, finding fortune on a road trip. Unfortunately, they also found tragedy.
"On the Road Again" was an episode that tied up some loose ends while opening plenty of new doors for our characters - those who survive last night's events - to explore.
As the show seeks to re-boot next fall, reportedly with the help of a time jump, one has to wonder if Robert, Saul and/or Holly will be there for the Season Five premiere.
There are times when Brothers & Sisters is so melodramatic, it's hard to take seriously. There are times, though, like Sunday, when that melodrama leaves one near tears.
As Rebecca and Justin ran toward the scene of the car crash, we knew what they'd find there - Robert, unresponsive. But it didn't lessen the emotional devastation one bit.
The accident was the convergence of many characters and story lines.
Saul (Ron Rifkin) played a critical, sad role last night.
Robert and Kitty were the first to hit the overturned truck, followed by the rest of the crew coming from Scotty and Saul's new restaurant. Rebecca and Justin got a late start and were spared, but Rebecca was on the phone with Holly, who had major news.
She, Nora, and Sarah had struck water at Narrow Lake. That's right, Nora had paid for more digging and the company found an aquifer - one of the deepest ever found.
Ojai Foods? So 2009. Ojai Water Co.? Bring it on!
But Rebecca was disconnected from Holly, which was another of those ominous moments. A celebration of what should have been a joyous moment cut tragically short.
The same was true of Saul, a glue character whose story line was perhaps the most moving last night. A gay man growing up in a different era, he'd never been tested.
At the urging of Kevin, Scotty and Nora, he finally tested - negative - for HIV. But a shocking twist came when Kevin rushed to the aid of his bloodied uncle after the crash.
"Don't touch me! You can't!" he exclaimed.
Drawing attention to HIV, and to older gay men who never experienced the relatively tolerant life Scotty and Kevin do, was a plot point you'd only see on Brothers & Sisters.
Ron Rifkin is always terrific as a supplementary character, but we've really enjoyed him these past few weeks as something of the family patriarch, but with unique baggage.
Meanwhile, Sarah, Scotty and Nora appear to be fine as we sift through the wreckage of the awful crash. Holly was trapped in the car, and Justin tended to Kitty and Robert.
One of the most powerful moments came when Rebecca screamed for Justin to come help Holly, and Robert told Justin to go. Do you think that Robert knew he was dying?
It appeared that by telling Justin to help someone else, he could have died saving them, a heroic death befitting of his character. Holly is in bad shape, but should survive.
We hope.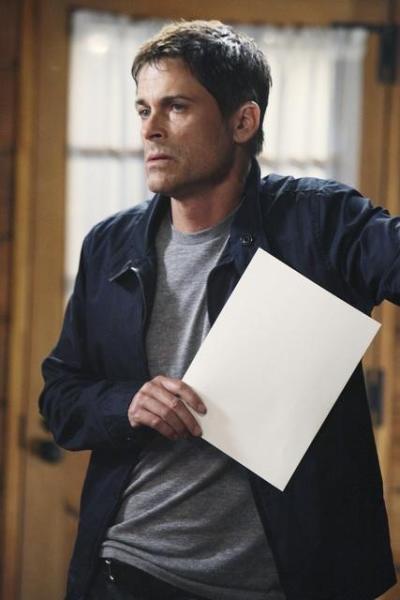 Sen. Robert McAllister (Rob Lowe) went out on top.
Rob Lowe and Calista Flockhart both killed what will be their final scenes together. Kitty had told Robert that she loved both the hero and the vulnerable man he's become.
As he sat there dazed, he told Kitty that he was afraid he wouldn't be able to keep up with Evan, but Kitty, so strong and loving, absolutely would. Then, he went silent.
It's a little dusty in here even as we write this.
It was subtly perfect, tragic and real. When someone you love dies, how do you even react? Not like you see on TV or in the movies - typically. Maybe the way we saw here.
Kitty didn't yell for help as he slipped away. Perhaps this was her own way of convincing herself it isn't happening, and perhaps we can just never prepare for such moments.
As Nora yelled Kitty's name, you knew it was all over. But you also knew that the mother who butts heads with her over so many things would comfort her like only she can.
Also marvelous last night was Sally Field. For all the times she's a nagging mother who sticks her nose where she doesn't belong, Nora is always, always there for her kids.
With Robert gone, will the potential scandals unearthed by Stanton - and his wife's campaign - die with him? Will Kitty move on and win the U.S. Senate seat, or stop running?
What did you think of the Brothers & Sisters season finale? Are you sorry to see Robert leave us? Where would you like the show to go next? Comment below!
Steve Marsi is the Managing Editor of TV Fanatic. Follow him on Google+ or email him here.