There's no way we could start off a Chuck review without first celebrating the show's fourth season pickup!  For the first time ever we'll be going into a season finale knowing the show's fate and it's a good one with a fall start.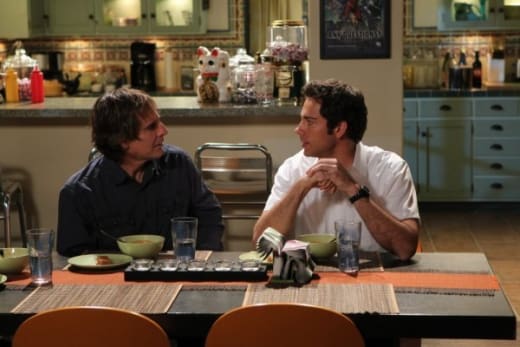 So how was this season's penultimate episode before going into next week's two hour season finale?  As could be expected, "Chuck Versus the Living Dead" set us up with some pretty amazing cliffhangers.
The episode itself mostly focused on the return of Stephen Bartowski and his new invention, the governor, a regulator for the Intersect.  The Ring, of course, also knew about this invention and was using Ellie and whatever other methods necessary to get their hands on it.
While the show got off to a bit of a slow start with Chuck annoyingly lying to his father, the action quickly turned around when Stephen proved time and time again how well he knows his family.  You think he build a mini-Intersect just for studying them?
Once Stephen found out Chuck's secret the action and plot picked up.  The cliffhangers we were left with going into the season 3.1 finale seem pretty epic for a mini season arc written after the original thirteen.
We actually are more excited to see Shaw using a Dark Intersect than we were for the original 3.0 season finale.  It's so comic book, but it's also so Chuck.
In terms of setting things up for a finale, this episode was amazing.  As an actual episode, it was still pretty gosh darn entertaining.  Some of our observations after the jump.
Although Jeffster was more distracting than usual, Big Mike as Rain from Earth, Wind, Fire & Rain was incredible.
Oh, who are we kidding, we loved the cut their rendition of "Love Hurts" after Casey's tormenting Chuck with Sarah and Shaw's past.
Fine, we'll admit it, we loved the Jeffster subplot.  Jeff?
It's great to have bad ass Sarah back.  Like investigating Morgan, who probably cracked in 2 seconds.
Stopping an incoming projectile with a hatchet?  Impossible for anyone but Sarah without an Intersect. 
Even more impossible?  That spark not causing an explosion.
So Shaw was really waiting this long to load an Intersect just for the governor!?  That's what bug fixes are for, buddy.  Sissy.
Speak of Shaw, how much money did they save by hiring a body double for Brandon Routh and never showing his face?  I know the budget was tight for season 3.1 and all..
Okay we could ramble for hours, but instead we'll just leave you with our favorite Chuck lines while we wait patiently for next week's two hour finale.
Morgan: He fell into a river? Of course he's still alive! Haven't you ever seen a John Carpenter movie? | permalink
Casey: Looking at pictures of people you killed? I do that myself from time to time. | permalink
Casey: It looks like we're going to see the inside of Shaw's bachelor pad, although for some of us it won't be the first time. | permalink
Stephen [about Sarah]: Does she have the intersect too?
Chuck: No dad, that's all her. | permalink
Big Mike: I can't wear this anymore, but you have the hips of a six year old girl. Use them. | permalink
Eric Hochberger is the programmer of TV Fanatic, so please forgive his mediocre writing. His programming is far better. Follow him on Twitter and/or email him. Just don't request threaded comments. They're coming.