Cougar Town Review: "Feel a Whole Lot Better"
at .
We couldn't agree more that the name Cougar Town does not give this show justice! If you aren't tuning in because of it, rewatch last night's episode "Feel a Whole Lot Better" and you will see why this show is one of our favorites!
Jules and Grayson wake up next to each other and try to discuss the current situation they find themselves in. Grayson suggests that they become FWB's - friends with benefits. Jules tells him that it can't work - FWB is a thing guys made up, but in reality it never works.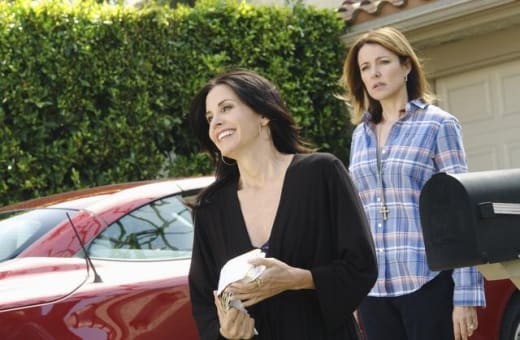 Anyone that has ever been in a situation like this one knows that Jules is right! Everyone goes in with the best intentions, but this situation is very sticky and normally blows up in your face. Guys, we're sorry to break it to you, but you really can't have your cake and eat it too! Someone is bound to have feelings and this will ultimately ruin your friendship.
After another romp between the sheets, Jules believes that they should give FWB a go. Only to realize hours later it is a bad mistake. She has feelings for him. With Ellie's help, Jules gets the courage to tell Grayson that she want to give it a go and really date.
At first, we are led to believe that Grayson is just not that into Jules (really though, we never believed it!), but the last couple minutes of the show, Grayson crosses the driveway and kisses her. All together now: "Awe!!!" We guess this means no more FWB and we are full on couple mode! Since Juleson may not be your favorite nickname for these two lovebirds, we are open to suggestions!
Although this episode was mostly about the new lovebirds, it did tie in some really hilarious moments.
First off, Andy does the robot perfectly - and Jules likes to sing when she is hiding something - these people are so wacky and funny all at the same time!
Also, Ellie feels guilty about having a nanny for their only child and makes up that she has a full-time job, when really she's just drinking wine and cuddling with Jules.
And last, but most definitely not least - the girls team up and put the guys to shame with their "That's what he said" jokes. Which brings us to our favorite Cougar Town quotes after the jump!
Andy: Stop - it's just a tiny thing.
Ellie: That's what he said!
Andy: You ruined it. You ruined my gift! | permalink
Andy: It's never that hard for me.
Jules: That's what he said! | permalink
Jules: You work that hoes b**ch.
Grayson: You're weird Jules.
Jules: Weird like a fox. | permalink
Jules: I'm gonna otter the hell out of you. | permalink
Ellie: This one needs it - she holds on like an otter trying to break open a clam. | permalink
Grayson: And our friendship means a lot to me. I don't want to mess that up.
Jules: I don't either. Maybe this should just be a one time deal?
Grayson: Or we could be friends with benefits.
Jules: Oh you snuck that one in at the end didn't ya? Friends with benefits - the old FWB. That is the greatest male myth of our time. That and our knees being erogenous zones.
Grayson: It is.
Jules: It's not. It's a knee. Do you want to know why FWB never works?
Grayson: No
Jules: We're friends - it can't be casual. Friend sex comes with feelings and baggage and someone always gets hurt. It's a horrible idea. | permalink