Way back in the tenth episode of the season, Sandra said about Russell "I hope I get my revenge because it's gonna be good."  Chances are she didn't realize how long it would take to get her revenge and how sweet it would be when it came.
On last night's finale of Survivor: Heroes vs. Villains, Sandra once again defied the skeptics, most notably Russell, by earning six of the nine jury votes to win the title of Sole Survivor for the second time in two runs on the show.  Using a mix of humor, charm and solid reasoning, Sandra was able to win the hearts of the Heroes-heavy jury.
Only Parvati seemed concerned about Sandra's chances of getting votes and I got the sense that she only said that out of desperation to get Russell off of her own back.  Certainly Russell was not concerned.  He told Sandra a few short moments after winning individual immunity that he was definitely going to take her to the finals and had to decide between Jerri and Parvati who the other finalist would be.  Russell felt he could easily beat Sandra and believed that she wouldn't get a vote.
That last statement hints at Russell's major flaw this past season - he underestimates his competition.  In his previous season, Survivor: Samoa, Russell's scorched earth game plan should have won him the million dollars.  He finished second on the wrath of an emotional jury, but beyond anger, there was little rationale to vote Natalie the winner.
Unfortunately for Russell, he did not have a chance to fully decompress from
Survivor: Samoa
before heading off for
Survivor: Heroes vs. Villains
.  He ran the same play book that he used in the previous season with his rationale being that a jury of his peers, of his REAL peers, a cast of all-Stars, would reward his strategic play instead of voting emotionally.  Though he did not actually admit it in the reunion show, Russell essentially admitted that time away from the game has shown him his flaws.
Two assumptions precipitated Russell receiving no votes to win at the final tribal council.  One, as previously mentioned, he assumed that the all-star cast would not get emotional when voting for a winner.  Probably not a bad thought that they'd respect the game more and be less emotional than a regular jury.  However, Russell never kept himself in check during situations that did not require hyper-aggressiveness and the jury was scornful because of it.
Secondly, Russell vastly underestimated his competition.  During the reunion show, Russell essentially admitted as much as well when he felt that Parvati should have been the winner.  This is a big statement coming from a man like Russell.  My guess is, after watching the season, Russell learned a lot of what Parvati was doing behind the scenes to keep her and Russell safe.  He obviously did not know this during the season, evident when he bristled at Parvati's suggestion of as much.  
Russell did not have as much respect for the winner, Sandra, but that felt more like sour grapes.  Whether Russell likes it or not, keeping a low profile is a very viable way to play Survivor and has been effective for many players.  Certainly Sandra is a testament to that statement winning twice using the same strategy.
One thing I've harped on repeatedly this season is the "as long as it ain't me" approach that Sandra has perfected.  Russell does not give enough credit to that approach, but the jury does and he should have.  Almost by accident, Sandra benefited from her failed attempts to get rid of Russell.  When she recognized that Russell was not going to be voted off, she backed off her advances and simply made sure she wasn't going home.
This was an almost impossible handicap for Parvati and Russell to overcome on a Heroes-filled jury.  They all knew that Sandra came to them asking to get rid of Russell.  Every time they denied her advances.  Every time one of them went home and she stayed.  How many people can say they challenged Russell Hantz, the King of Samoa, multiple times and not only didn't get eliminated, but won without voting Russell off?
How could the Heroes, in good conscience, vote for someone other than Sandra?  If they had listened to Sandra, they might be sitting next to her.  For all of Russell and Parvati's machinations, Sandra's proved the most clairvoyant.  Russell and Parvati picked off Heroes after JT's debacle.  Sandra wanted to flip the game on its head and would have if someone had listened to her.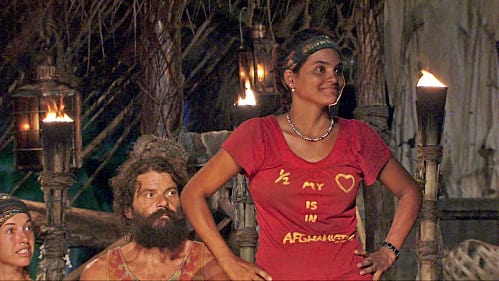 Ironically, I think that Sandra's failed attempts to get rid of Russell won her the game.  Or, more accurately, if she had been successful, she would have been voted out.  If Russell were eliminated, Sandra would have played the role of Candice after Amanda's removal.  The Heroes might not have gotten rid of her as quickly as the Villains removed Candice, but Sandra would have looked like Colby facing a Villains-filled jury.  There's no way they let her get to the final three.
So the question becomes, is Sandra the best player of all time?  Tom Westman believes that Survivor is a third physical, a third mental and a third luck.  Considering Sandra is not a physical threat at all, I'd say she's been helped by a fair bit of luck in her two seasons.  That's not to take anything away from her accomplishment, but I can't call her the best ever.
That title has to go to Parvati, cemented by her play this season.  Any questions about her mental game were answered this season when she backed up her Survivor: Micronesia performance with a dominant run this season.  What was really on display this season was her physical prowess.  She was so dangerous in the challenges, Colby actually lobbied Russell to be kept in the game to help beat Parvati in the final immunity challenge. 
We'll leave the debating to our readers.  At the close of the best season in Survivor history, we have just one question for you:

Who's the best ever to play Survivor?