The Bachelorette Review: Ali's Back ... Does Anyone Care?
Steve Marsi at .
It's getting harder and harder to take The Bachelorette seriously. Not that it was ever easy, really, but at least back in the day, the story lines didn't seem quite as contrived.
Perhaps it's because we've endured so many seasons at this point. Or because The Bachelorette spoilers are leaked so prolifically there's hardly any element of surprise left.
Or because it's just plain bad.
Last season on The Bachelor, Ali Fedotowsky made it to Jake Pavelka's top four, only to be forced - so we're led to believe, anyway - to return to work at Facebook or get fired.
This was dubious to say the least. Why go on the show in the first place if you're going to be faced with this ultimatum? Naturally, she signed on as this year's Bachelorette.
Yes, she came to her senses and left her job to find love.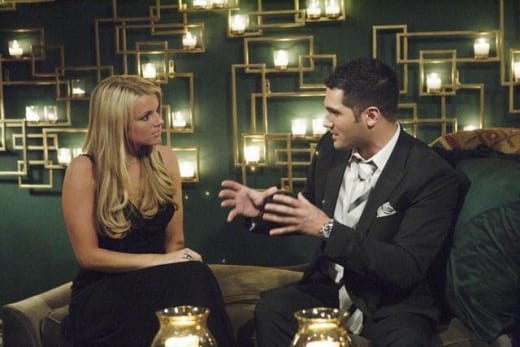 Will anyone become invested in Ali Fedotowsky's quest for love?
''The biggest mistake I made was choosing a desk and a computer and a keyboard over someone who could be the love of my life,'' Ali said in her season-opening montage.
''It's been very difficult for me to put love and relationships first. I let my insecurities and fear dictate my life, and I'm not going to be a victim. I've reprioritized my life.''  
Translation: The Bachelor was totally right. Real life had it wrong. I shall never doubt the romance-making machinations of Chris Harrison and Mike Fleiss again. Ever.
We fixate on this because this ridiculous premise makes it hard to get invested in Ali, who's simply not that interesting either (maybe that will change, but it's true now).
We've also seen it all before. Only the names change. Justin Rego, a pro wrestler, is pegged as the annual dude who's there for the wrong reasons. Wow, what a stunner.
Ali keeps him around. Also a stunner. Chris from Cape Cod. Roberto the suave, salsa dancing stud. Derek, a.k.a. Shooter, who explains his nickname in graphic terms.
In the end, though, we're left with four separate thoughts:
With all pretenses of realism dropped, the show had better introduce some original fake drama that's actually new and fun to watch in the next few weeks.
This needs to be a one-hour show. You cannot be expected to sit through two. Even DVRing it and blasting through all the ads the next morning is painful.
The show has a really good stylist. They really did a number on Ali this season. Maybe if she'd had that treatment before, Jake wouldn't have let her go!
Is it just us, or is this the most awkward group of guys ever assembled? Seriously, with a few exceptions, you dudes dropped the ball. Bring it next time!
What did you think of The Bachelorette season premiere?
Steve Marsi is the Managing Editor of TV Fanatic. Follow him on Google+ or email him here.