The Office Season Finale Review: "Whistleblower"
Steve Marsi at .
"There are only like 12 minutes that I felt was worth taping. And most of that was just birds in my condo complex. I miss Holly." - Michael Scott, on his video camera footage
This line summed up last night's season finale of The Office, and perhaps the entire year in a way. Funny, and infinitely watchable, but somehow a little disjointed and lacking.
It's hard to know what to expect from a comedy's season finale, and "Whistleblower" was typically difficult to evaluate. There were were many funny moments and reveals.
The Office characters are all so brilliant that it takes very little to make us laugh at this point. Kathy Bates gave her best performance to date as Jo. The writing was sharp.
So what kept last night, and this season, from being brilliant?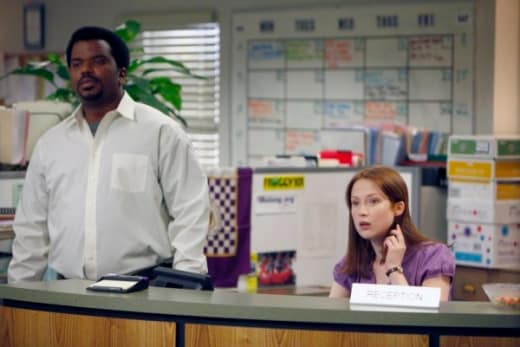 The hunt for the whistle-blower was great ... but not fleshed out enough.
The answer is twofold: Not enough time devoted to really hashing out the story lines like we saw in the finale, and a lack of serious consequences stemming from the result.
We suppose those two are connected - how can you perceive the consequences of the exploding Sabre printers as severe if the story in general feels disjointed and rushed?
The idea that everyone in the office might be the whistle-blower was awesome, and had the episode adhered to it longer or more exclusively, it would have been even better.
Instead, what shaped up like an seismic confrontation between Michael and Jo turned into a heart-to-heart of sorts. Enjoyable in its own right, yes. Epic finale material? Eh.
Of course, we're excited at the revelation that Holly may be returning next season, and seeing Michael's star rising by taking the fall was something unexpected in itself.
Not bad, despite the what felt like a scattered season. A couple of other highlights from last night, in the interest of not lambasting an episode that was by and large solid:
Interesting Dwight sub-plot set-up for next fall. Can you see him as a Scranton Business Park landlord squaring off with Bob Vance? There's good potential there.
Andy and Erin's tender moment at the end was not exactly Jim and Pam finale material, but still so sweet. Especially after the beating Bernard endured all night.
Woof. One word says it all ... the first and last word in social media, created by Ryan. Him receiving a fax, a call and 3-4 chat windows popping up? LOL material.
Creed ... we have nothing to add at this point.
Follow the jump for The Office quotes from the finale ...
Gabe: Stanley, it's your turn.
Stanley: I didn't do it.
Gabe: What a rich timber your voice has. | permalink
Kelly: I probably tweeted it. I tweet, I text, I phone, I Skype ... | permalink
Nick: Darryl, you're on Facebook! Why do you tell people you're not on Facebook? People want to be your friends. | permalink
Creed: I think we can all agree it's either Gabe or Angela. [Flips coin] It's Angela. Get her, boys. | permalink
Michael: There are only like 12 minutes that I felt was worth taping. And most of that was just birds in my condo complex. And I miss Holly. | permalink
Michael: That teacher who was wrongfully accused of being a pedophile. We cannot led the pedophile win! | permalink
Michael: I know these people. I know when their birthdays are. I know what their favorite kind of cake is. I know what color balloons they like.
Jo: All that's just birthday information, Michael. | permalink
Phyllis: [to Andy] Put your hand up, Norma Rae. | permalink
Ryan: I just sent myself a woof.
Erin: Ryan, you have a Woof on Line 1. | permalink
Steve Marsi is the Managing Editor of TV Fanatic. Follow him on Google+ or email him here.