For "Fox Rocks" week, The Simpsons decided to celebrate by replacing their intro / couch gag with a musical number to the Ke$ha hit, "Tik Tok."  From what we've seen around the web, fans are anything but pleased with this intro.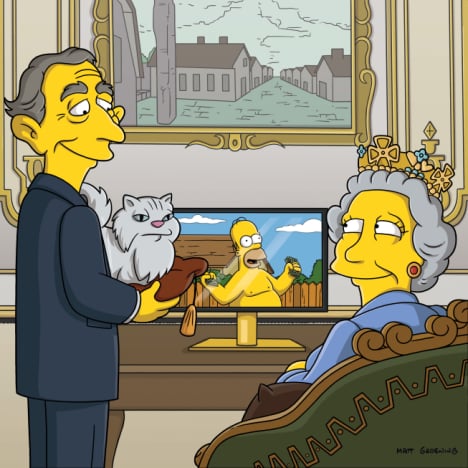 Myself?  I loved it.  As a professional club-avoider and having never listened to a pop station, the Ke$ha song is not as played out to me as others.  The animation was great and the characters were all perfectly used for an entertaining intro.  Besides guys, chill out, it was just the opening.  It was better than "Fox Rocks" ruining the actual episode.
As for the actual content of "To Surveil With Love,"  the episode focused on Ned becoming Big Brother as he watched the town of Springfield through a series of cameras throughout the town set up the vein of the UK.  The Homer's backyard sequences felt reminiscent of the prior prohibition episode, but were still plenty of funny moments.
While the actual plot was nothing too unique, we liked the ending with Flanders realizing he was playing God and the whole camera-setup being set up as a reality show in England.  "I'll miss that Ralph Wiggum. Reminds me of my boy."  Clever stuff.
The side story featured Lisa joining the debate team and finding the stereotypes of her having blonde hair hold her back.  Our favorite part of the B story was definitely seeing Lisa as a brunette.  The actual jokes, aside from Bart explaining why blonde guys didn't fit the stereotype, were far weaker than the B story.  Though it definitely is worth noting the ridiculousness that was Lisa's last debate... being about conformity.
So whether you liked the intro or not, it's tough not to declare this episode one of the strongest of the season.  Our favorite of The Simpsons quotes from the half hour are after the jump.
Mayor Quimby: Is this what the framers of the Constitution would want?
Wally: Well, I'm Wally of Wally's Framers, and this is exactly what I want. | permalink
Chief Wiggum: Now, just follow a little formula called PB & J. Peer at the monitor. Be judgmental. And jot it down. One way to remember that is A-B-C. Always Be Considering PB & J. But the single most important rule is the four As. Always Act According to A-B-C. | permalink
Queen Elizabeth: I'll miss that Ralph Wiggum. Reminds me of my boy.
Prince Charles: Oh, mummy, my cat's breath smells like cat food. | permalink
Principal Skinner: Ralph Wiggum will be standing in for your lectern.
Ralph: I'm a furniture. | permalink
Eric Hochberger is the programmer of TV Fanatic, so please forgive his mediocre writing. His programming is far better. Follow him on Twitter and/or email him. Just don't request threaded comments. They're coming.