On this week's episode of Burn Notice ("Fast Friends"), we got introduced to Jesse,a newly-burned spy.
Michael was forced to come up with a way to befriend him without tipping him off that he helped burn him. This made for a delicate dance.
Jesse was a great "Yin" to Michael's "Yang" and reminded me a bit of what Michael was like when he was first burned. The conversation Fiona and Michael had about how Michael first woke up with someone he could trust sitting beside him and that Jesse did not have that was an awesome reflection on how far the show has come and was a great callback to the first episode.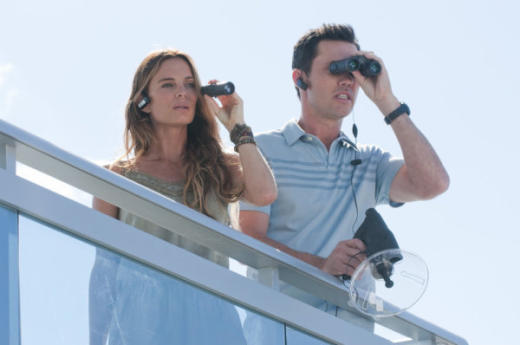 I truly enjoy the writing Matt Nix is doing with the show. It appears that Jesse will be around for several episodes and that should be awesome. I suspect there is some attraction building between him and Fiona.
When Jesse told her that he got put behind a desk because he couldn't sit by and watch a guy beat up his girlfriend, not only did she say "I knew I liked you," but you could see a shiny gleam in her eye.
However, let's not forget that Michael is playing with fire. While he and Jesse have now become "fast friends," if Jesse finds out that Michael helped burn him there is a good chance Michael wouldn't know it until it was too late. So this raises a couple of questions.
First, is there a situation where Michael can be honest with Jesse, and Jesse not kill him? Second, will Nix keep Jesse and turn the trio into a quartet for good?  I am looking forward to the next few episodes to see how the dynamics of the four of them works out before I even try to guess the answer to either of those questions.
What did you think of the episode? Do you like Jesse? Should Michael be worried about Fiona falling for him?? Comment away!
Jim G. is a TV Fanatic Staff Writer. Follow him on Twitter.