The first episode of Huge was titled "Hello, I Must Be Going."
This pilot explored the landmine-filled world of teenage self-image, as there are so many issues at stake when dealing with overweight teenagers, especially girls, in light of the recent concerns about childhood obesity in America. ABC Family's semi-comedic drama about a group of kids consigned to a weight loss camp, some of their own free will and others on threat of boot camp, seemed poised to expose some of the cold, hard facts about weight concerns.
Instead, the first episode remained frustratingly ambiguous about the matter, hiding behind euphemisms and self-conscious teens who never voice their distress. Except for Will.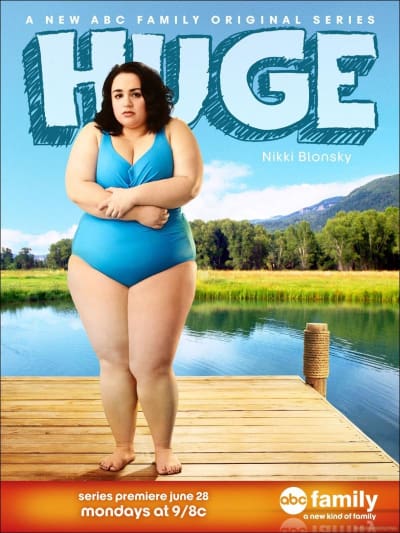 Willamina, or Will as she prefers to be called, doesn't want to be at Camp Victory, a fact that she makes clear to her fellow camp-goer Becca, a young woman committed to losing the weight she gained back after last summer's stay at camp. Will's strip-tease mockery of the camp's tradition of snapping photos of the swimsuit-clad campers, and combative attitude with camp director Dr. Rand makes her seem like the coolest kid at camp.
Indeed, she is supposed to be our protagonist, someone we can root for as she battles against the seemingly fat-prejudiced Dr. Rand and the weight-obsessed Amber.  But, by the end of the hour, do we even like Will?
She breaks all the rules by selling candy and snacks to the food-loving campers, but ignores the fact that her cabin-mate, and closest friend at camp, Becca is desperately trying to lose weight. The temptation of the sweet treats leads Becca to turn in her friend, and she feels a lot of (unnecessary) guilt about this once Will decides to leave.
Will, without much reason, immediately suspects Amber ratted her out to Dr. Rand and transforms into a character from Mean Girls when she sabotages the already self-conscious teen's shorts by shrinking them. The ensuing embarrassment over her split pants does actually lead to happy place for Amber, a moment alone with the hot coach, after being laughed at by the entire camp.
Will hardly seems repentant. At the end of the episode, her efforts to befriend Amber do not include an apology for her actions. Unless you count a vague, "I'm sorry…that sucks for you," comment as an apology.
What sets Will apart at this camp is her attitude about her weight. She refuses to buy into the camp's weight loss goals, proclaiming herself to be "bff" with her body and vowing to gain weight this summer instead of losing it. ("
I feel like inside me, there's an even fatter person waiting to get out!
") She is against everything that Dr. Rand represents, which is never actually made clear.
Dr. Rand says she isn't about cultivating negative self-images or hate for one's own body, but is concerned with the promoting healthy behavior. Regardless of what the Dr. actually says, Will places Dr. Rand alongside her parents who are embarrassed by her weight. Additionally confusing are the mixed messages about body-image floating around this camp, making the show pretty ambiguous about the serious issues it raises.
Upon meeting Amber, Caitlyn and Chloe proclaim her to be "the thinnest girl here" as they self-consciously examine their own overweight bodies. Amber, not content to be the skinniest girl at weight-loss camp, tapes pictures of models over her bed as "thin-spiration." These images conflict with another girl's motivational poster that reads, "Beauty Comes from Within."
Once it is revealed that Caitlyn has been sent home for "vomiting" (a somewhat graphic euphemism for bulimia) accusations are cast against Amber's skinny model pictures as the cause, as well as towards Will's enterprising snack-selling and Chloe's refusal to expose Caitlyn's secret last summer. What all these accusations miss is the fact that the camp, as well as the show, papers over Caitlyn's eating disorder, a real problem in the world of weight loss, by refusing to identify it as bulimia.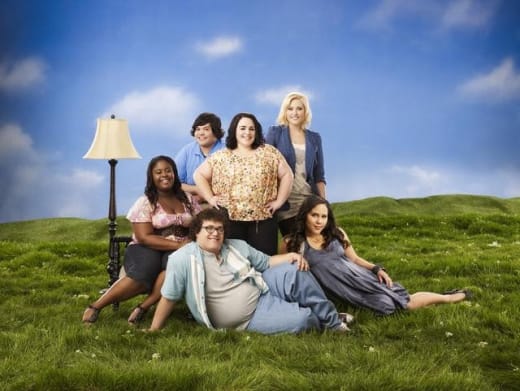 What the show does portray quite accurately is the various ways in which a young woman's self-image issues can be manifested. It is clear that both Will and Amber have the same self-conscious feelings about their bodies, but they deal with it in opposite ways.
Will's harsh, sarcastic attitude masks her resentment of her own parents for sending her to camp and her own unhappiness with her weight. Amber, who seems to be hiding something, constantly assesses her own weight in hopes of losing a few pounds, while gazing at the retouched images of models. Becca seems the most aware of her own weight problems, and seems committed to fixing them in a healthy way.
Time will tell if the show will resolve some of its indefinite leanings on the problems of weight-loss and health, and if these teens will continue building their friendships, as well as exploring some budding romances – Will and Ian, or Amber and George. I suspect they just might.
What did you think of the opening episode?
Matt Richenthal is the Editor in Chief of TV Fanatic. Follow him on Twitter and on Google+.