Royal Pains Review: "Spasticity"
at .
Last night marked the start of the second season of Royal Pains and it was interesting to see that we kicked off right where we left off last season!
"Spasticity" had almost everything we love about this show - the only part that was missing was any hints of romance.
One could argue that there were some old sparks flying between Hank and Jill, but we aren't sure just yet! Where in the world did Charlie vanish off to? Do you think that this will be the last we hear/see of him? I guess we will just have to wait and see what happens between these three!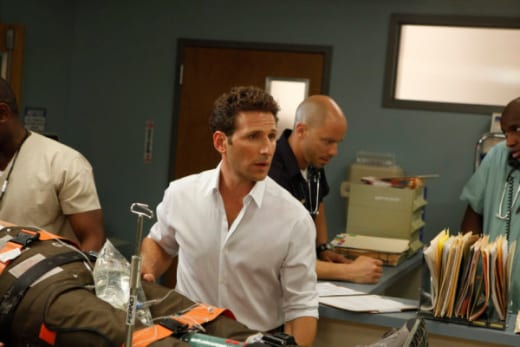 Let's not forget that we still think something is bound to happen between Evan and Divya - even IF that kiss last season meant nothing, there is definitely some subconscious chemistry flying around! Now that she is a woman spoken for - who is about to get married in two months - something must happen quick!
Boris is back and has agreed to let Hank be his personal care physician. He has always been an integral back-burner story, so we think that this won't just fade away lightly. It is up to Hank to find a cure to his mysterious genetic disease that has killed off generations - but do you think Hank will have the wits to put it all together?
From the looks of his crazy lifesaving move last night, I do! This week's client, Spencer, was stuck between metal chamber doors. Yeah this is just a TV show, but if something to that degree happened to someone in real life, that guy would have been a goner! Fortunately, he was saved and was able to find out he isn't spastic, just slightly poisoned by mercury. Whew!
So the Fonz is back!!! Errr...we mean Big Poppa! Eddie R is definitely going to mix things up this season - heck, he's already had our two favorite guys running around New York! We can't wait to see what zaniness he brings to the table!
What did you guys think of the season premiere? Was it everything you've been waiting for? All we know is Royal Pains is definitely going to keep things hot and fun this summer!
Until next week, we leave you with a few of our favorite Royal Pains quotes after the jump!
Evan: So we agree to disagree?
Hank: Like we always do. | permalink
Hank: What's with the Johnny Cash fashion tribute?
Evan: I'm in mourning. | permalink
Divya: Sometimes you have to meet family half-way, even if you don't know where their coming from. | permalink
Hank: Trying to get rid of this room seems way the hell more crazy than just trying to stay away from it. | permalink
Spencer: Welcome to my fathers office.
Divya: It's very homey. | permalink
Hank: Quid pro quo you deserve better from me. | permalink
Boris: Should I grab a copy of US Weekly and have a seat in the waiting room? | permalink