The City Review: "Work Horses and Show Ponies"
Steve Marsi at .
If last week's episode of The City was a reality check for our career girls, this week's marked a redemption of sorts ... even for the much-maligned Olivia Palermo.
The City recap has all the details, but here's a brief review ...
Astonishingly, Olivia was able to stomach doing some actual work and scored an interview with Zac Posen for Elle, which she boasted that she'd be able to do.
Of course, she has set the bar so low that doing what she is paid to do - the definition of a job - has become an anomaly, something worthy of great praise.
To say nothing of the fact that she already knew Zac Posen. Because Olivia Palermo is not a real career-climbing young woman, you see. She is a socialite.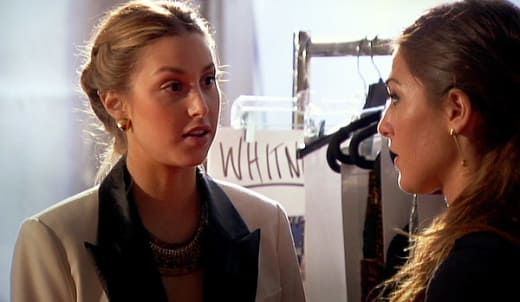 Whitney Port reacts in typical Whitney Port fashion.
This is where the show drives us nuts. As cool as so many elements of it are, it's basically a promotional piece for Elle. Her ineptness is just part of this package deal.
Impressed, Joe says this is "the reason he hired" Olivia. Really? It wasn't to give your magazine non-stop exposure on MTV every Tuesday night? Could've fooled us.
Try as Erin Kaplan might - she wanted to compare Olivia's work to Louise Roe's recent interview - she simply can't get Olivia fired. Planting drugs on her might do it.
Meanwhile, Whitney fears that she'll be in over her head in Miami, doing her first show without Kelly. She may be right, but Roxy Olin actually stepped it up a bit.
Helping her out at a Miami boutique, Roxy decides it would be a good fit and invites the buyer to check out the Whitney Eve show later. The cameras didn't hurt ...
At the event, Roxy appears to be quite frustrated about the apparent disorganization at the show, but the people in charge tell her not to worry, it will be alright.
Right they are. Despite setbacks, the show is a success, and Whitney Port takes a well-deserved curtain call as Shari and Pamela decide to carry Whitney Eve!
It's hard not to like Whitney and wish her the best in her career ambitions, no matter how unfairly boosted they might be by the fact that she stars on The City.
She clearly works hard and wants to be in fashion, rather than going the Speidi route and making reality TV her life. We realize she's on a reality show, but still.
Not a bad week for The City overall. We always enjoy the insight into the fashion world that it provides. We just find some of the girls' roles on it a little forced.
Steve Marsi is the Managing Editor of TV Fanatic. Follow him on Google+ or email him here.