The Good Guys is growing on me.
This week's episode ("The Broken Door Theory") was easily the best of the season so far, as the writing was a bit sharper and, despite Dan actually acting more over-the-top than usual in terms of his illness, his character was toned down just enough.
Last week, I complained that Stark was too much of a caricature. It was simply not believable that he wouldn't know the proper term for "computer."
But more subtle examples of his backwards philosophy worked well on this episode, such as his mispronouncing of "forensics" or his attempt to memorize a screen full of hotel guest names instead of simply printing it out.
The show relies on gimmicks and once you turn yourself over to that fact, it's easier to sit back and just enjoy the general hijinks delivered each week.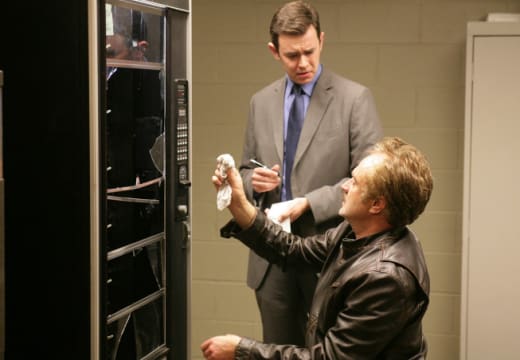 I laughed at the flashbacks that took place "32 years ago," "about a week ago," and when the series told us Jack and Dan were parked "1.01 miles away" from the suspect from whom the lieutenant barred them from coming within a mile.
You at least have to give The Good Guys credit for being different than every other police procedural out there. It rarely even pretends as if the outcome is the focus of each episode, as the culprits are always identified right away and the final scene even depicted at the outset.
It's just a matter of letting Dan's outlandish behavior wash over you and it works the more you realize that he may be stuck in 1985 in many ways, but he's also one smart cop that gets the job done.
Two complaints about "The Broken Door Theory," however:
First, writers really need to give the character of Liz some background. Why did she and Jack break up if they clearly seem to into each other? Who is this guy to whom she's engaged?
All we've seen so far is her pining over Jack, who may be a very nice fella and solid detective. But that's as one-dimensional as a character can get and I'm not exactly invested in these two getting back together, are you? It's too obvious at the moment that they will.
Secondly, three mustache jokes in one episode is two too many. One reference per week could be a funny gag, but Bradley Whitford's incredible facial hair was the butt of multiple jabs and puns this week. Like the character himself, it works better when it's not as overt.
After all, it's not like you can miss it anyway. It's one amazing 'stache.
What did you think of the episode?
Matt Richenthal is the Editor in Chief of TV Fanatic. Follow him on Twitter and on Google+.