Ryan Adams should get down on his knees and give thanks to The Good Guys.
The multiple shout-outs to that singer and his concert were the most publicity Adams has received in ages. Unfortunately for Liz and Jack, they were also what stood out the most for me about this storyline on "The Dim Knight."
The show is not meant to be taken seriously and, therefore, I don't wish to harp too much on a series issue - but The Good Guys does a major disservice to its female characters. We know absolutely nothing about Liz outside of the fact that Jack wants to be with you. Heck, we've never even seen her in a scene outside of Jack!
This might be acceptable if she were a bit player, but she's appeared on every episode and Jack's pursuit of Liz is meant to give us insight into his character... but not hers, apparently, not the way she's been presented so far.
The same can be said for Lieutenant Ruiz, whose only job is to interact with Dan and Jack.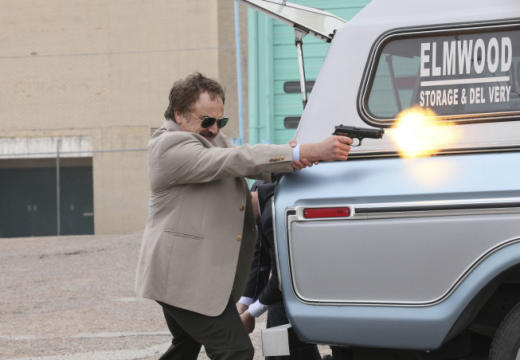 Those complaints aside, this episode was another example of The Good Guys finding the right tone with Dan. The series has clearly chosen to go the comedic route entirely with this character, making him more of a caricature of an old fashioned cop than an actual old fashioned cop.
That's fine by me. I like watching Bradley Whitford ham it up and his bonding with a man to whom he could relate - the meth lab exploding culprit - was one of the more enjoyable aspect of the season so far.
I also loved Dan's story about the dog he and Frank had that was let go from the corpse squad because he kept finding people that were still alive. Funny stuff.
Catch up on our favorite The Good Guys quotes below and chime in: What did you think of this episode?
Dan: You ever need cops, you come straight to property crimes. | permalink
Dan: Look at his face, it's got "yeah, sure, I'll be the wife" written all over it. | permalink
Dan: Women are like kittens. They just wanna be taken care of. | permalink
Jack: If this guy is trying to take over the south Dallas drug trade, there's one better to handle it than me. And maybe also Dan. | permalink
Dan: Before we go in there, I want you to know I respect you.
Jack: Thanks... oh yeah. Right. You, too. | permalink
Matt Richenthal is the Editor in Chief of TV Fanatic. Follow him on Twitter and on Google+.