The Hills Review: "The Company You Keep"
Steve Marsi at .
Tuesday night, The Hills continued to limp toward the finish line of what has been a storybook run ... a storybook that should have ended a few chapters ago, unfortunately.
Think about it. Spencer and Heidi got married. Lauren didn't want to be on it anymore. That was your finale right there, MTV. Last summer. Not the shell that remains now.
Instead of a guilty pleasure, now we're left feeling guilty about wasting a half hour of our lives watching the same, boring stories only with new people no one cares about.
Case in point? McKaela Line. The supposedly "innocent" beauty from out of town has been a focal point of recent episodes, dating Brody Jenner, working with Lo and so on.
The only problem? There's no way she's not keenly aware of what's going on, as the people she befriended are celebrities, and she was indoctrinated into the fold instantly.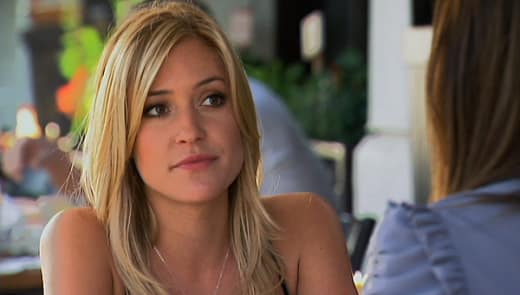 Kristin Cavallari doesn't cut it as The Hills' leading lady.
All of this might be excusable if the drama were compelling, the stories less predictable or the people engaging. Not the case. Did we mention it's just not that interesting?
Last night, McKaela was emotionally stomach-punched twice, as she learned her friend, Allie Lutz, is viewed as a crazy person by pretty much everyone else on the show.
Naive to the drama that's gone before, supposedly, McKaela brings Allie to Stephanie Pratt's birthday celebration. Kristin and Brody are snuggled up. Awkward much?!
Kristin and Brody are furious that McKaela dare bring Allie, who supposedly once broke into Brody's home. Allie says that's not true, Kristin hurls insults, and so on.
After ignoring McKaela, Brody then chastises her as well for bringing Allie. Again, the recurring question in every recent Hills recap is this: are we supposed to care?
Hard as McKaela tries to remain level-headed and not get played, the girl succumbs to Brody's charms and still can't resist calling him the next day. They never can.
He ignores her call as Kristin crawls around the floor by his bed. If she's doing this just to become quasi-famous, then good job. If not, well, that's just plain pathetic.
Elsewhere, only slightly less pathetic is singer Ryan Cabrera, who Audrina Patridge is trying to push away to make room again for Justin Bobby. Yup, he's still around.
After three years, we've learned that Brody Jenner plays girls, and that Justin is bad for Audrina, and that she sabotages her own romantic life at every opportunity.
We've learned that these spoiled girls will start drama at clubs and insist that others are telling lies about them. We've learned they are too thin and sound like idiots.
Time to switch things up or call it a career, Hills.
Steve Marsi is the Managing Editor of TV Fanatic. Follow him on Google+ or email him here.