The Hills Review: "Welcome to the Jungle"
Steve Marsi at .
The Hills' 100th episode was not one of its best. The reason? Well, there are many, but to sum up, it's just boring. There have been about 20-30 episodes too many at this point.
Tuesday, the crew marked the milestone with a trip to Costa Rica, which offered incredible scenery and reminders of how happy we are that the show's run mercifully ends soon.
One would think a Central American journey would mark a departure from stories we see in Los Angeles week after week, but rest assured, nothing really happened there either.
As our gossip site's Hills recap notes, it's hard to get into Kristin Cavallari's bid to make Brody Jenner jealous when 1. he doesn't care either, and 2. she's dating the cameraman.
How seriously can you take a show you know is fake?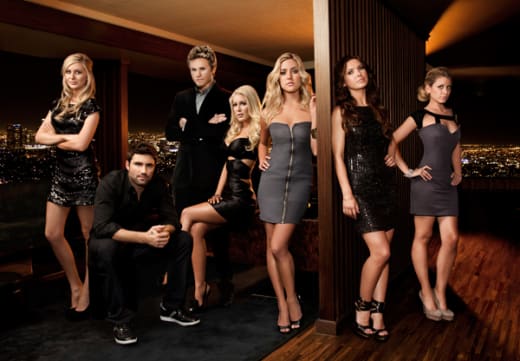 The Hills, 100 episodes old, has run its course.
There's also the matter of characters who are neither likable or interesting. Spencer Pratt and Heidi Montag could be awful individuals, sure, but they kept things spicy.
Wildly unpredictable, you just never knew what to expect from those plastic, passive-aggressive loose cannons. Now you have Lo and Steph, who serve zero purpose.
You also have Audrina Patridge, who's trying to come to grips with her feelings for on-again, off-again beau Justin-Bobby for what honestly seems like the thousandth time.
The guy is a loser. She can do better. He treats her like crap. Then he's nice once in awhile. He's got this bad boy air about him. We know, we know, we know. Move on!
As always, there were some high points, but few and far between. The Hills will call it a career July 13, and it's probably for the best. The cast has better things to do.
Like being professional celebrities.
Steve Marsi is the Managing Editor of TV Fanatic. Follow him on Google+ or email him here.