A pair of key introductions were made this week on True Blood:
Viewers met Alcide, a much-hyped new character on season three;
And we learned a disturbing new sexual position, one none of us should try at home.
Indeed, between the closing scene of "It Hurts Me Too" and the opening shot of Eric feasting on a werewolf, this episode was heavy on the gore. Even for True Blood. It was also heavy on storylines, throwing more at fans than just the most intense version of hate f-cking we'll ever see.
Among the developments that moved ahead:
Bill learned a lesson. It was the same lesson Lorena had tried to teach him centuries ago, as we saw via flashback that she forced him to glamour his wife and leave her. As cruel and selfish as Lorena appears to be, she's not incorrect. Could a vampire ever truly love a human without bringing her danger and harm? It doesn't seem that way.
But the overriding question every time Lorena is around centers around her end game. She clearly wants Bill for herself and appears to have made a deal with the King of Mississippi just so he can have Sookie killed. This is an act Lorena could take care of on her own if she truly desired it - unless she realizes that such a move would turn Bill away from her forever.
Seriously, she stills thinks these two have a chance! And we thought Maryann was crazy.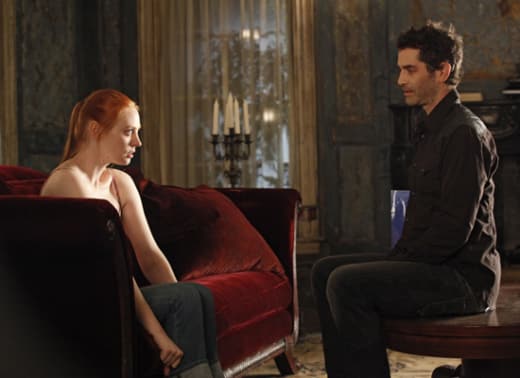 Alcide came to the rescue. We'll get to know this werewolf a lot better as the season progresses, but his debut was underwhelming. Most characters on the show possess unique personalities, a trait shared by such newbies as Franklin, the King and Talbot. But Alcide didn't seem especially snarky or funny... which is perfectly fine.
His presence after one episode just doesn't stand out for any reason. Expect that to change once his crazy ex, Debbie Pelt, enters the picture.
Talbot remained hilarious. Offering Cooter a Zima? One of the best lines ever on the show. (Why do I get the feeling Talbot will eventually be killed by the King, though? Enjoy this eccentric vampire and his unique taste while you can, readers.)
Tara got hypnotized... again
. Bill's outlandish sex scene to close the hour overshadowed the fact that Tara had her bedroom world blown, too. That was some intense stuff between the sheets with Franklin, a character I'm greatly intrigued by. But I could have done without Tara once again having her mind controlled by some manipulator with an agenda. That's two seasons in a row.
I'd tell Lafayette to do a better job keeping an eye on his cousin, but the guy has a sweet new ride to distract him now. He just has to pay the insurance on it. Come on, Eric is not an idiot.
Sam continued to bore me. Whether it's the tired storyline of an adopted individual tracking down his birth parents, or just the fact that shifters aren't as interesting as vampire and werewolves, the action slows down considerably every time Sam is on screen. It also may be my lack of a desire to see a grown man in his tighty whities.
Whatever the cause, here's to hoping the intrigue picks up more between Sam and his brother. We get it: the Mickens are a bunch of poor drunks. Now what?!?
Other notes/observations from the episode before we ask readers for their take on it:
Too bad we didn't see Jason's mystery girl again.
Are they gonna tell us the blood/alcohol limit in Louisiana or what?!?
Jessica's frustration over her ignorance as a vampire is always a source of humor. As is the fact that she relies on Pam as a mother figure.
Caretaker Mike is the father of Arlene's baby, right? They seemed to enjoy themselves at Maryann's last season.
What's a hotter image: Eric's bare backside, or his blood-soaked face? Discuss!
What did you think of the installment? Sound off now in our True Blood forum and check out the best True Blood quotes from the episode!
Matt Richenthal is the Editor in Chief of TV Fanatic. Follow him on Twitter and on Google+.