From the introduction of Alcide to the depiction of the most twisted sex scene in TV history, True Blood was at its gory, ridiculous, suspenseful best last night.
We reviewed "It Hurts Me Too" in full this morning, but now we're back with a closer look at the episode, via our weekly Round Table discussion of the show.
As always, we encourage reader feedback and analysis on the following topics...
What was your favorite True Blood quote from the episode?
M.L. House: Jessica's frustration over her ignorance of the vampire world always slays me. I loved it when Franklin corrected her point about inviting him in and she replied along the lines of: "Why does no one tell me this stuff?!?
The Barnacle: It may have been to easy for Lafayette, but still too funny when he responded to Jason having a lot on his mind lately with: "That must be new."
Mrs. Northman: Lafayette: "What's the catch?" Eric: "You gotta pay the insurance. I'm not an idiot." (Mr. Northman, you never cease to make me smile.)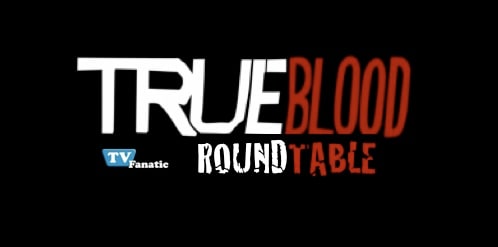 More disturbing sex scene: Tara and Franklin, or Bill and Lorena?
M.L. House: The Bill/Lorena scene was so outlandish, it was difficult to take seriously. But who out there couldn't truly feel Tara's pain when she begged Franklin to "BITE ME!" His creepy response? No, because you want me to.
The Barnacle: While those facial expressions from Tara and Franklin sure were creepy, nothing compares to Bill having sex with the poltergeist.  Though I gotta tell you, I'm jealous of his ability to never need to paper bag it again.
Mrs. Northman: Bill and Lorena - talk about sex gone all wrong. I really hope Bill is able to get out of this and get back to Sookie!
What were your first impressions of Alcide?
M.L. House: They weren't very favorable. I'm not making any final judgments, but after one episode, Alcide has the personality of Edward Cullen. The guy seems kind of boring, especially when compared with such funny characters as Pam, Talbot and Lafayette.
The Barnacle: From this brief encounter, he's been my favorite of the new characters.  Watching him protect Sookie was even hotter than Jacob and Bella.  Sorry Twilight fans, I went there.
Mrs. Northman: HOTT!!! He makes Jacob look like a baby cub.
Who is the father of Arlene's baby?
M.L. House: Who the heck knows? Remember Maryann's orgies? Everyone was doing everyone at those things!
The Barnacle: Well, unlike HBO's much crappier Entourage, True Blood takes no time break between seasons and these events unfold so quickly I'm thinking no season takes more than a few weeks.  So my limited math skills conclude that three months ago Arlene would have banging Rene.  I'm thinking she's got a little baby serial killer in there.
Mrs. Northman: Ewww. It has to be Mike! He is so gross... I have no idea how Arlene is going to handle this pickle! 
Should Talbot break up with the King of Mississippi?
M.L. House: Totally. The King is so busy plotting area takeovers and consolidating his power that he's overlooking the finer things in life, such as antique carpets and blood-based desserts. Talbot should make a run for it and move to Provincetown, MA. He'll be appreciated there.
The Barnacle: Now that doesn't sound like the commitment the King was talking about.  All couples go through rough patches, especially when you've been together for hundreds of years.  Trust me, as an expert of gay vampire relationships, it will get better.  Stick it out, buddy.
Mrs. Northman: If Talbot breaks up with the King, he definitely won't be around much after that. So for his own safety, I hope he keeps the King happy!  Happy King = Happy (undead) Life.
Matt Richenthal is the Editor in Chief of TV Fanatic. Follow him on Twitter and on Google+.