She was in the movies High Fidelity and American Pie 2, but right now actress Joelle Carter is best known for her role as Ava Crowder on FX's hit television show Justified. 
The season finale of Justified is tomorrow night at 10pm on FX, but TV Fanatic spoke with Carter earlier today about her experiences on the show and her budding acting career.  Excepts are below and we thank Joelle for her time.
TV Fanatic: How did you get the role of Ava Crowder and what was your reaction?
Carter: For me it was a bit of an unusual time frame in that I didn't find out I got the job until probably two months after I auditioned.  After that, I had a month or two before shooting to digest the character which was nice.
TV Fanatic: Have your experiences growing up in Georgia helped you play the role of Ava Crowder?
Carter: Definitely.  There's a certain style to how people live in the south - food, atmosphere, flavor - and how they'll say something without actually saying it at all.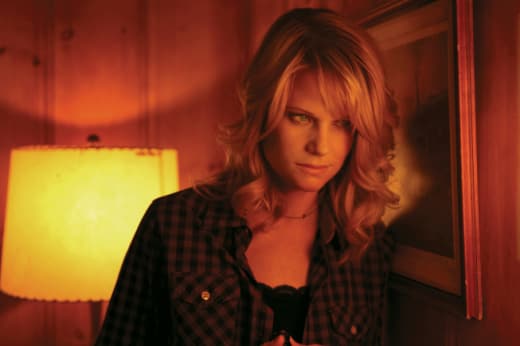 TV Fanatic: FX is known for airing edgy dramas.  Did you watch shows like The Shield or Rescue Me to try and get a sense of how Justified would feel?
Carter: Justified was sold to FX after it was first cast, so initially we did not know that the show was going to be on FX.  However, once we learned the show would be on FX, I definitely watched those shows.
TV Fanatic: What's the feeling like shooting the first few days on set?
Carter: We were flown in to Pittsburgh to shoot the pilot...
TV Fanatic: Wait, the pilot was shot in Pittsburgh, not Kentucky?
Carter: (laughs) Yea, I guess there are some places outside of Pittsburgh that look like Kentucky.
TV Fanatic
: Who knew?  So you're shooting the pilot in Pittsburgh...
Carter
: Yes, everyone was so receptive and encouraging to work with.  I had worked with Nick Searcy (Chief Mullen) before (
Cold Storage
) so we were familiar, but it was really exciting to see the quality of cast present.  Obviously I knew Timothy (Olyphant) would be there, but others like Walton Goggins (Boyd Crowder) were so exciting to meet.
TV Fanatic: What's it like working with Timothy Olyphant?
Carter: His energy and enthusiasm for the show is very impressive.  He's got three kids and still shows up every morning with plenty of ideas for the show.  Justified has been a bit more collaborative than I thought.
TV Fanatic: Who are the biggest joksters on the set?
Carter: Definitely Nick Searcy and Jacob Pitts (Tim Gutterson). 
TV Fanatic: How about Walton Goggins?  He seems like he'd be a riot
Carter: He is funny, but he's also one of the sweetest men you'll ever meet.
TV Fanatic: Any insight on tomorrow's season finale or Season 2?
Carter: There are going to be a lot of surprises tomorrow that make people wonder where the show is going to go with the second season.
TV Fanatic: What about this off season, any new projects going on?
Carter: I'll be working with some friends trying to put an indie film together called Red River as well as a webisode called Choke Kick Girl.  And (laughs) renovating the house, of course!