Bethenny Frankel is getting married. Like, very soon. She's also seven months pregnant, so she's pretty much setting a new record for stress levels and hormonal activity.
Fortunately, just as she and wedding planner Shawn are really starting to lose it, fiance Jason Hoppy steps up and becomes more involved and active in the whole process.
Through it all, they are clearly looking forward to the big day.
As our sister site's thorough Bethenny Getting Married recap notes, what makes this episode fun is that our Bethenny is back - the one we knew and loved from RHONY.
Were it not for Frankel's witty, sassy, neurotic, but mostly lovable nature, and Jason being so laid back, this would be just another show about a shrieking bridezilla via.
Bethenny has her moments, to be sure. But she's great, mostly.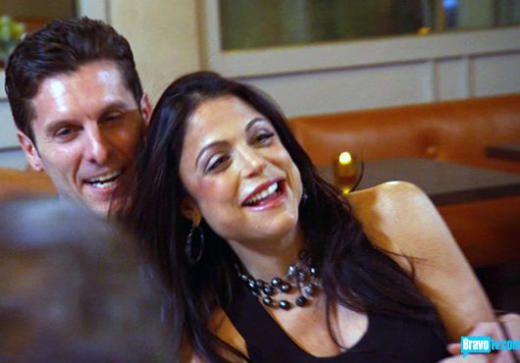 Bethenny and Jason are getting married, and thrilled about it. Mostly.
While Bethenny did seem more relaxed this episode, she was still all over beleaguered wedding planner Shawn, who she berated over the phone about choosing the perfect cake. 
She then reached major meltdown status at Jason, who continued to recline on the couch. By the end of this particular BF tirade, Jason and Cookie the dog were both cringing.
"Are we getting married for us or are we getting married for the production? That's what I want to know," Jason asks, frustrated ... in front of reality show cameras. Crickets.
The night's highlight was probably when Bethenny tried to squeeze into a dress she had picked out only days earlier. Ah, pregnancy. Things don't fit from one day to the next.
After freaking out, she ends up wearing a top as a dress, and it is as short as ... well ... "If I had a tampon in the string would be longer than this dress," Bethenny blurts out.
Gross. And LOL.
The episode ends on a high note, one day before the wedding. When the therapist asks her if she has any reservations about marrying Jason she says, "No second thoughts." 
Finally, Bethenny gives Jason a painting he's always wanted. "It was one of the most touching things that anyone has ever done for me," he says, genuinely touched. 
Maybe the room just got dusty, but we were pretty touched, too.
Steve Marsi is the Managing Editor of TV Fanatic. Follow him on Google+ or email him here.