At Comic-Con last weekend, we were treated to the official trailer for season five of Dexter.
A few days later, various cast and crew members sat down for a panel discussion with members of the Television Critics Association and spoke in more detail on plot developments and guest stars from the upcoming set of episodes. To wit:
Producer Chip Johannsessen on Peter Weller's role: "He's going to be a big problem for Dexter. He's an ex-cop, a cocaine cowboy era guy who gets into some trouble with a corruption thing and ends up kind of posing a problem for Dexter.
Johannsessen on the season's overall storyline: "We are taking a break this year from what has been the what we've plotted out our seasons in the past four years, which is to have one season-long adversary for Dexter.
"As he's going through different stages of his grief, really, even though for Dexter it's inarticulated... as he goes through different stages there will be different characters who will interact. The through-line is Dexter's atonement. Different people help him along the way in different capacities."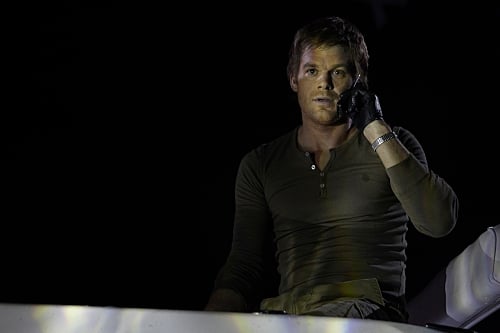 Producer Sara Colleton on the season premiere appearance of Julie Benz: It won't be as an advice-serving ghost. "In this show, Harry serves a very unique purpose and to dilute that in any way would fundamentally harm the DNA of our show."
Guess we'll need to tune in for that episode on September 26 to see how Rita actually returns.
Matt Richenthal is the Editor in Chief of TV Fanatic. Follow him on Twitter and on Google+.