Oh my God, we just remembered why we liked Entourage!  There were these brief moments of fun on this week's "Dramedy" that reminded us of what this show was about: the guys partying and having fun.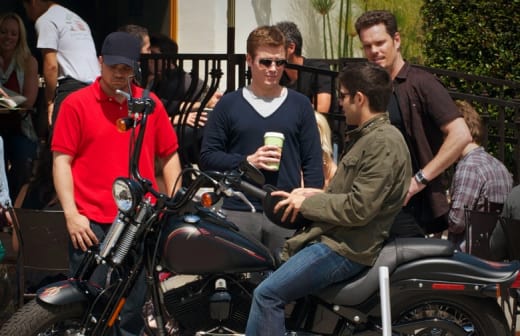 Then, unfortunately, the show reverted back to its theme of season six: everyone in the group besides Vince was moving on with their lives.  Rather than Jamie-Lynn, Turtle had a lame Lim-Ho business; Drama rather than having a successful TV show was trying to land another; and E, well, E has Sloan.  We can't judge that.  Lucky bastard.
Okay, fine.  The show doesn't need to be fun, we can focus on recurring themes of failure amongst everyone in this group and lame contrived work-related drama like Lizzie pissing off Mrs. Ari and E and Scott fighting over Vince.
All we really ask for is more Sloan scenes, but less of her having boring dinner with E.  Oh and more lesbian kissing scenes.  That was hot.  Even if we have to put up with the annoying Scott character, we're happy to see at least one of the group having fun still.
This is supposed to be a mindless half hour escape for us.  This is not a drama.  This never has been.  Like Johnny learned today, we'd rather laugh and have fun with these guys.
Oh and while we're ranting, we're going to point out a few more things that irritated us:
Vince's dare devil status is becoming more like a high schooler every day.  Can't we model him after some of the more bad ass celebrity scandals out there?  Instead we got a motorcycle.  Really?
The cameos used to feel fun.  But this time, Adrian Peterson is selling a dinosaur head?  That wasn't ridiculously contrived or anything.
Not sure why, but Marvin's entire scene bothered us, but in particular, only $30,000 to launch the Lim-Ho business?  Man he got those Mercedes on the cheap!  Let's hope he can convert those for his nice drug smuggling business he and Alex get into.
After all that you'd be shocked to find out this was our favorite episode of the season.  Why?  For that brief glimpse of fun at the party.  Our favorite Entourage quotes from the episode after the jump.
Ari: I would have spun Lloyd around if he was in front of me and if I could lift him. | permalink
Ari: This family's going to own an NFL team and we're going to talk about it 24 hours a day. | permalink
Drama: That's not my hat, is it bro? | permalink
Eric Hochberger is the programmer of TV Fanatic, so please forgive his mediocre writing. His programming is far better. Follow him on Twitter and/or email him. Just don't request threaded comments. They're coming.