Tami and Eric are almost a tad too perfect, aren't they?
Easily the most admirable couple on television, their relationship faced what would have been a season-long crisis on many other programs this week. After all, another man kissed Eric's wife!
But the matter was settled in the course of one brief conversation in bed on "The Lights of Carroll Park," an episode we're reviewing now because, hey, even the most complete TV site around must take off a holiday weekend now and again!
For the most part, I can't get enough of the maturity, confidence and independence each side of this couple shows on a weekly basis. But even though viewers know the incident with Glenn was utterly harmless, it seemed like even Tami and Eric would spend more more than a few seconds on it before essentially moving on.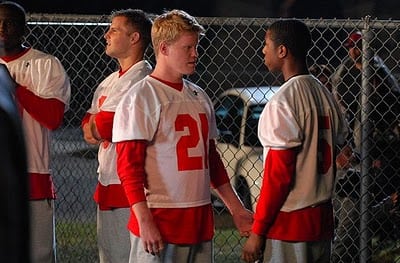 That tiny complaint aside, this installment managed to give each character a solid platform within the course of an hour. It was a chance for new FNL players to shine.
Similar to how the series first got us to fall in love with Riggins, Vince isn't given a lot of lines. But Michael B. Jordan does an excellent job portraying how torn this quarterback is between the life he knew before and the one he's trying to hold on to now.
His scene with Landry, pictured above, was classic. Sometimes, a couple pats on the chest mean a lot more than any long speech ever could. Hopefully Landry figures that out soon (although I laughed out loud at his reaction: "What does that mean?")
Then, of course, there was Becky.
We've seen teen pregnancy storylines on TV many, many times before. But
Friday Night Lights
has earned our confidence and manages to avoid cliches by taking us so closely inside each character. This doesn't feel like your typical soap opera plot development.
Our focus is solely Becky, the lonely 16-year old we've felt so bad for every time she makes a move on Tim. She's pregnant, not some cookie cutter character.
Luke's reaction was also priceless, as he stammered his way through the perfect reaction for a guy that isn't ready to be a father, yet also admits he's "uncomfortable" with the idea of an abortion.
It seems unlikely the show will actually go there, but if any could pull it off, this is definitely it.
Finally, kudos to the writers for avoiding another cliche and even acknowledging it during the episode: the white man that gets inspired by seeing one incidence of violence and wants to suddenly make a difference. Eric was aware of this perception and made it clear his goal was more modest - let's get the lights turned on and go from there.
I'd love to see Larry Gilliard Jr.'s Elden become a regular character somehow. I'm guessing all fans of The Wire feel the same way.
WHAT DID YOU THINK OF THIS WEEK'S EPISODE?
Matt Richenthal is the Editor in Chief of TV Fanatic. Follow him on Twitter and on Google+.