Over the last few weeks, Glee creator Ryan Murphy has made two statements:
The character of Brittany (played by Heather Morris) will receive more air time on season two.
The show will pay tribute to Britney Spears.
Now, Murphy has combined those spoilers and revealed that Morris will sing at least two Britney hits on the upcoming episode dedicated to the pop star. Simply put, "Heather's actually got a terrific voice," he told TV Guide.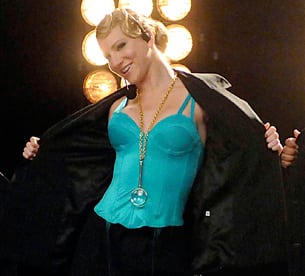 Brittany can do Madonna (and, in real life, Heather Morris danced back-up for Beyonce), but Glee fans will soon find out if she can also cover Britney.
Last month Morris told E! News: "I heard there's a Britney Spears episode coming up and fingers crossed that I get to sing, because I play Brittany and I'm like, 'Oh my god, it's insane.'"
You can uncross those fingers now, Heather. The insanity is a reality.
Matt Richenthal is the Editor in Chief of TV Fanatic. Follow him on Twitter and on Google+.