Are Chuck and Blair going to be together on Gossip Girl this upcoming season? Maybe at some point? What about Dan and Serena when the show returns September 13?
E! Online offers the following updates on the two couples in its spoiler Q&A:
Q: Please, some good Gossip Girl news! I heard that Clémence Poesy (Eva) is going to be a series regular now. Please say that's not so! I want hope for Chuck and Blair.
A: Sources say Clémence Poésy is not a series regular for the coming season, and Blair does not have a new love interest in the works. So maybe that's ... something?!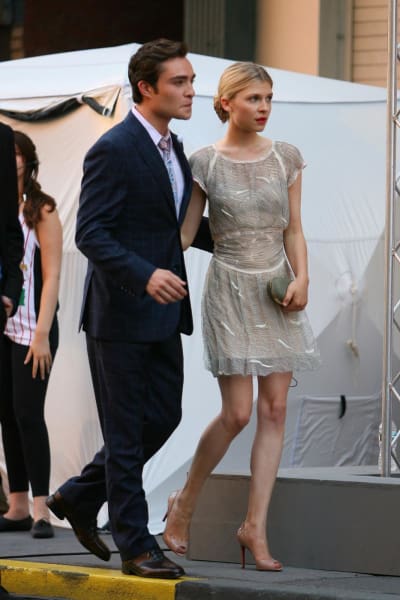 Ed and Clemence in New York last week.
While fans' hopes for a Chair reconciliation should be tempered, at least in the early going, there is definitely hope, despite the addition of Mr. Bass' new European lady love.
In other news, those photos of Dan and Vanessa pushing around a stroller? Rumor has it that's Dan's actual baby! Shocked they're going through with that storyline. You?
Q: Will Dan and Serena be together when this season starts?
A: The latest is I'm hearing is no, they will not be. Can't imagine what she doesn't see in her sorta-kinda half brother soon to be with child!
Thoughts? Opinions? Theories? Share!
Steve Marsi is the Managing Editor of TV Fanatic. Follow him on Google+ or email him here.