May's finale was a bit open-ended as far as Dan and Serena were concerned. The one-time Gossip Girl couple seemed to reconnect, but will they be back together for real?
As far as spoilers are concerned, we've gotten mixed messages. Nate is getting a new love interest, which would presumably open the door slightly for a Derena reunion.
Then there were these photos of Blake and Penn in New York, but it was probably just the couple being all romantic and cute in real life. Those two can make it confusing.
The whole matter of the baby stroller, meanwhile, suggests Dan has too much going on with Vanessa and Georgina (in different ways) to rekindle the flame with S now.
Here's what EW's Michael Ausiello has to say in his Q&A today ...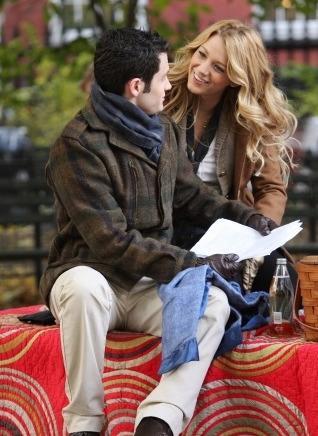 Vintage Derena, Gossip Girl Season 1 style.
Q: There's a hot debate going on in the Gossip Girl fan community these days about Dan and Serena. Are they going to be getting back together next season?
A: I'll say this: They will be spending a LOT of time with each other in the first few episodes back, but I think it would be wrong to suggest they'll be together. Catch my drift?
What do you think? Does that mean they'll be close again, but only as friends? Do you want them to be more than friends? Comments below and our Gossip Girl forum await.
Steve Marsi is the Managing Editor of TV Fanatic. Follow him on Google+ or email him here.