The Big Bang Theory moves to 8 p.m. on Thursdays next season.
But, according to writer Lee Aronsohn at Comic-Con yesterday, one thing will remain the same on this CBS comedy: a focus on Sheldon's personal life. Look for Mayim Bialik to reprise her season finale role as his potential love interest.
"Sheldon is not changing from the Sheldon we know. The challenge has been to figure out what kind of a relationship members of this species might have," Aronsohn said.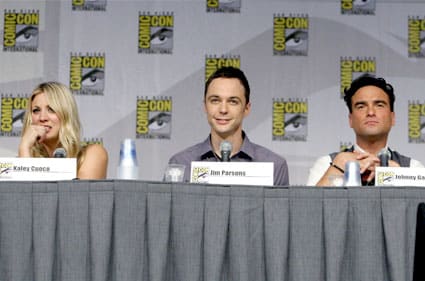 As for Leonard and Penny? They won't be swapping spit again any time soon.
Show runners Chuck Lorre and Bill Prady said the two would "get back to being friends" this season, each exploring new relationships.
"We just want to do what will provide us with more stories," Lee said of the pair. "We've seen shows that have really hurt themselves by doing a lot of will-they-won't-they, and when they finally do, no one really cares anymore. We want to keep it interesting."
Meanwhile, Apple cofounder (and one-time Dancing With the Stars contestant) Steve Wozniak will guest-star on an episode.
The Big Bang Theory makes it move and premieres on September 23.
Matt Richenthal is the Editor in Chief of TV Fanatic. Follow him on Twitter and on Google+.