Pretty Little Liars Round Table: "There's No Place Like Homecoming"
Matt Richenthal at .
Is Toby a killer? Who has the best fashion taste on Pretty Little Liars? Are you on Team Eria?
We tackle all these questions and more in this edition of the Pretty Little Liars Round Table. Read our review of "There's No Place Like Homecoming" and then chime in on the topics below...
Who wore the best dress for Homecoming?
M.L. House: Aria. She makes black look like the new... black. It's definitely her color.
Mrs. Northman: Def. Spencer! I was surprised by that one too. What in the world was Aria wearing? Hanna even took out a killer dress for her and she wore something out of MJ's closet?
The Barnacle: Hanna. I liked the plunging neckline and the hair really complemented the outfit.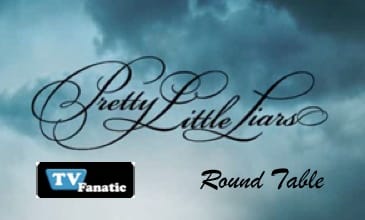 Did Toby kill Alison?
M.L. House: Definitely not. It's far too obvious. But can we talk instead about the fact he was doing his step-sister?!? That's like Greg and Marcia hooking up on The Brady Bunch. Ick!
Mrs. Northman: No way! I haven't read any of the books, but this is too predictable. I still have no idea why he would have the "901 Free at Last" tattoo. Odd boy, but still very cute!
The Barnacle: No, but not because I think he's some innocent character. Instead, it's because - cue scary music! - I don't think Alison is really dead!
Should Hanna have sex with Lucas?
M.L. House: Yes. It will likely be over so quickly with that inexperienced guy that she can still claim she's a virgin.
Mrs. Northman: YES!!! I like Lucas! He's such a dork, but there's something charming about him.
The Barnacle: No. The bible doesn't make exceptions for cute, funny geeks. Hanna should wait until marriage if she's really serious about protecting her flower.
Are you rooting for Aria and Ezra?
M.L. House: Not if they remain this boring when together. Ezra seems like a legitimately nice, good guy. He respects Aria and seems torn over his feelings for her. Where's the fun in that?!?
Mrs. Northman: Not at all. Hello! Aria is 16. There is no reason why Ezra should be messing around with a child.
The Barnacle: Am I rooting for them to have a major falling out and for us to see more of the darker side to Ezra that was depicted in class a couple weeks ago? Yes, absolutely.
Is this the last we've seen of Alex?
M.L. House: No way. You don't sign the Diego Boneta for just a couple episodes! He'll be back!
Mrs. Northman: I doubt it. Spencer should just explain her situation with her sister to him. It seems like money/class could be a deal breaker between them, though.
The Barnacle: I don't care. I just want us to never see Melissa again. Her attitude toward Spencer is too extreme and too hard to believe. I'm all for family strife, but give us some background and some character depth, please.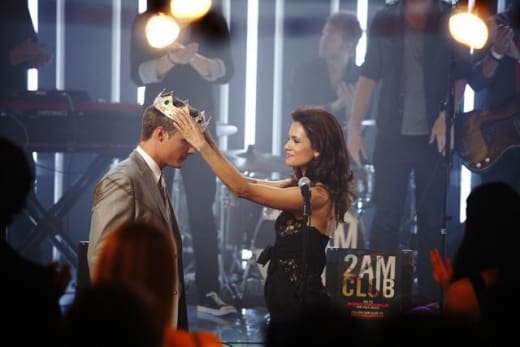 Matt Richenthal is the Editor in Chief of TV Fanatic. Follow him on Twitter and on Google+.