Royal Pains Review: "The Hankover"
at .
I fully enjoyed last night's episode of Royal Pains - in fact, it could be my favorite episode to date!
Yes, it did play a good amount of homage to The Hangover, but "The Hankover" had me laughing out loud while sitting in suspense a couple of times.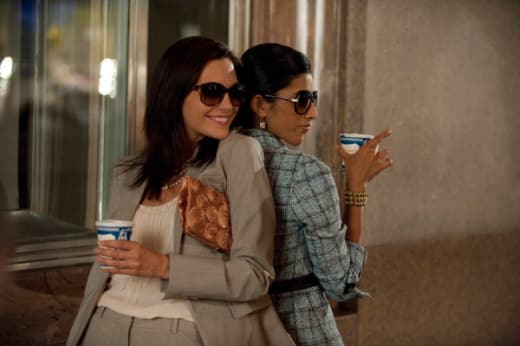 One of my favorite quotes from last night had to be when Evan and Hank found Raj sleeping in a pool of Blood Mary. Evan said:
Evan: Who drinks Bloody Mary's at night? | permalink
Seriously! Who does drink em at night? That is way more of a Sunday brunch drink than anything else!
Back to the episode, I am really disappointed that Hank is hooking up with Emily. Something about her really rubs me the wrong way. And what happened to his feelings for Jill? It's pretty obvious that there are some still lingering, so why get your rocks off with someone else? I'm just very confused about this love triangle!
It was great watching the girls run around the City having a full blown girls night out! I loved Jill's outfit - Divya's would have looked better if she didn't have her bra showing (just saying). And Aristotle? Could it really be Bill Bellamy or were my eyes deceiving me?! That right there earned a star in my rating! He really brought it with his character that normally wouldn't be that noticeable - even his trauma was done brilliantly!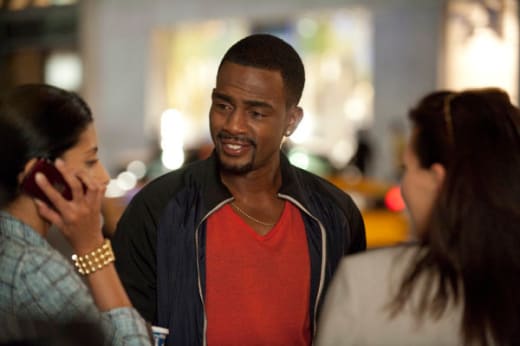 The hidden love that Evan so clearly has for Divya is almost excruciating to watch. I know it, you know it - so why won't Evan admit that he is head over heels for her?
Divya, on the other hand, confuses me. I always thought she was marrying Raj because she had to, not because she loved him. Then she sends him a text that says otherwise? At least we know that Raj is a good man. What other guy would be trying to find the stripper a decent job instead of having a private lap dance at his bachelor party? Seriously!
The pending wedding only means something is bound to happen. Do you think Divya will leave Raj at the alter? I would guess that Evan and Divya will finally admit they have feelings for each other, but it just doesn't feel right. I feel that if something doesn't spark soon - it will all feel too rushed.
Overall, this week's episode proved to me what a great show Royal Pains is. Hopefully, there will be many more like last night's episode to come!
What did you think of "The Hankover"? Follow the jump to read a few Royal Pains quotes and don't forget to leave us your thoughts and opinions!
Raj: Why are you dressed like that?
Jill: Like what? | permalink
Emily: So are you gonna kiss me or are you gonna wait twenty years. | permalink
Emily: Oh Hank, you can never fix the past. | permalink
Jill: I don't want to be a downer, but they're not going to let us in there.
Divya: Why not?
Jill: Because we are dressed like mothers. | permalink
Evan: I just had a brain storm.
Hank: I didn't know a brain storm could happen in a vacuum. | permalink
Hank: It's hardly fair to judge the guy, we hardly know him.
Evan: That's when I do my best judging. | permalink
Hank: Who's marrying her - you or Raj? | permalink