So You Think You Can Dance Review: Top 6 Perform (Again)
Steve Marsi at .
After last week's third consecutive injury debacle, no one was eliminated on So You Think You Can Dance. The two weeks prior to that, an injured dancer was eliminated. So we haven't seen anyone cut who's actually competed on the program since July 8.
They're making up for lost time now, however.
Two dancers will be ousted tomorrow night, leaving the season's final four standing. Let's take a look at how the remaining six did, and who's in jeopardy.
Kent Boyd with Anya Garnis (cha cha): Kent has come so far this season, Nigel Lythgoe said. When he goes for it, it just works. The clear favorite, Kent.
Robert Roldan with Kathryn McCormick (contemporary): In a piece about going off to war, Robert and Kathryn did a gorgeous job, showing serious talent.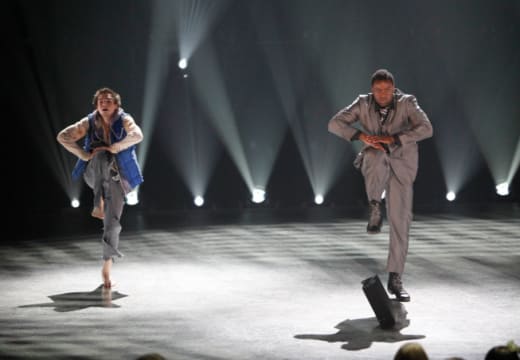 Billy Boyd's knee was fine last night. His performances were as well.
Despite his early struggles, Robert has grown throughout the competition, even if he could have let the emotion dictate his performance a little bit more.
AdeChike Torbert with Courtney Galiano (jazz): AdeChike clearly went all in, though some judges (cough, Mia) said he somehow lacked style and finesse.
Jose Ruiz with Comfort Fedoke (hip hip): A hip hop hybrid blending jazz and maybe a little contemporary seemed to show Jose's versatility more than ever.
The judges disagreed on whether they felt the character was believable or whether the routine hit hard enough, or should have been darker and sexier.
Lauren Froderman with Allison Holker (Broadway): Not the most memorable routine of the year, but Lauren handled it beautifully, like the All-Star she is.
Billy with Ade Obayomi (contemporary): The dancing was incredible and Billy looks healthy. The story? Unclear. Still, the standing ovation was well-earned.
Kent and Jose (Broadway): Jose did well considering he lacks Kent's ... well, everything. He's just a bit overmatched. Schedule the Kent-Lauren final now?
AdeChike and Lauren (foxtrot): Again, not the high point of the night or of the season, but Lauren is clearly the cream of the crop. Well, Lauren and Kent.
Robert and Billy (Bollywood): Robert was a little more suited to this than Billy, but it was still a serviceable Bollywood bit - nothing to take for granted.
Who do you think is going home tonight on So You Think You Can Dance? Which four of the six will survive? Leave a comment and tell us!
Steve Marsi is the Managing Editor of TV Fanatic. Follow him on Google+ or email him here.