It wasn't a good sign last week when Nigel Lythgoe told Melinda Sullivan he voted to oust her but was overruled. Nor was it very promising last night, when Adam Shankman and Mia Michaels basically admitted that, yeah, their bad for keeping her over Cristina Santana.
Her fate all but sealed heading in, the judges inevitably sent Melinda home Thursday.
Following the previous evening's top nine performances, Robert Roldan (not surprising) and Billy Bell (somewhat surprising) landed in the bottom three along with Melinda.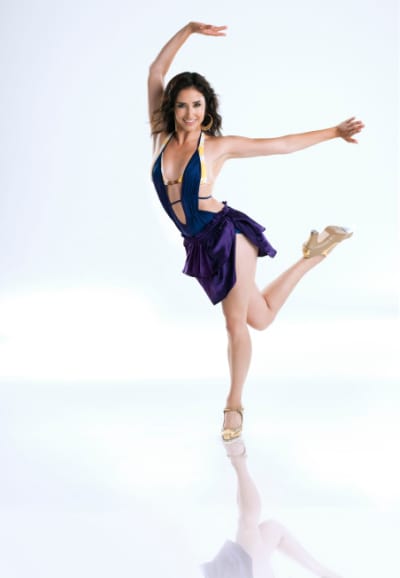 Melinda Sullivan couldn't tap her way out of this one.
You knew Billy would be spared, so it came down to Melinda and Robert, who Mia said needs show some more personality. Billy? He just needs to evolve, grow a little bit.
Before the bottom three danced for their lives, we learned that Alex Wong, Ashley Galvan, AdeChike Torbert, Kent Boyd, Lauren Froderman and Jose Ruiz were all safe.
We're now left with six guys and now only two girls!
Perhaps the most noteworthy thing last night was learning how next week, the eight dancers will do two routines each; one with an All-Star, and one with a competitor.
There was also performance from the Cirque du Soleil show "Viva ELVIS," plus Ne-Yo's live performance of the song "Beautiful Monster." Typical results show fodder.
The dancers finally performed their solos, and Melinda was sent home. Having been in the bottom three each of the first three weeks of the finals, she had to be.
Next week, it could be Robert under the gun. He's looking particularly vulnerable these days and could become the first male casualty here in Season Seven.
Do you think American and the So You Think You Can Dance judges made the right decision sending Melinda Sullivan home? Discuss below!
Steve Marsi is the Managing Editor of TV Fanatic. Follow him on Google+ or email him here.