The Bachelorette Review: Jake and Vienna Return in Rare Form
Steve Marsi at .
Ali Fedotowsky is the star of The Bachelorette, but you wouldn't have known it from last night's episode, which was pared down to 75 minutes to make room for Vienna Girardi.
The final rose recipient from the most recent season of The Bachelor (which Ali bailed on after an offer to be The Bachelorette ultimatum from work) was back, and in rare form.
Vienna and Jake sparred for 45 minutes, making us wonder just why they got together in the first place, and why the heck The Bachelorette is a two-hour show for that matter.
Follow these links for comprehensive recaps of Jake and Vienna's interview and the rest of The Bachelorette drama. Below, we've listed some of last night's highlights for you ...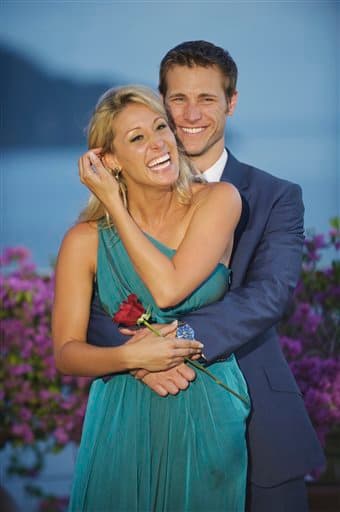 Roberto, Chris and Kirk all do well on their 1-on-1 dates.
Frank and Ty go on a 2-on-1 date, and lament this fact.
The same old narratives are rehashed over and over.
Jake and Vienna are introduced and start going at it.
The gist of the Jake-Vienna interview was basically to let them have it out on ABC instead of in the tabloids, allowing the network to cash in on the people it made famous.
It worked.
While nauseating, their verbal sparring was among the most talked about moments of a season that's already had plenty of its own, and there is clearly no love lost.
Their fake relationship unraveled so fast, and so dramatically, it was both sickening and wildly entertaining to watch these two loons trade petty, scripted allegations.
We'd say Team Vienna triumphed, playing the victim successfully and seeming at least a little heartbroken despite her many faults and general lack of intelligence.
Jake? He did nothing to dispel conventional wisdom that he's a fame-whoring uptight stiff and kind of a pompous jerk to boot. Be thankful, Vienna. You got off easy.
Not in bed with Jake, but you get the idea.
Steve Marsi is the Managing Editor of TV Fanatic. Follow him on Google+ or email him here.