Breaking up is never easy. Especially when it's with your best friend.
Whitney Port and Roxy Olin have been on the outs ever since the former blamed the latter for ruining a recent fashion opportunity. Now the separation has commenced.
That's essentially what happened last night on The City, when Roxy's father, actor Ken Olin of Thirtysomething and Brothers & Sisters fame, refused to lend her some money.
After a huge backstage fight that Kelly Cutrone had to break up, Whitney was surprised to come home and see her old friend packed and ready to leave her apartment.
New York rent is, like, really expensive.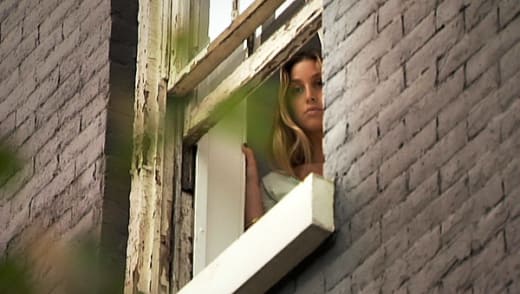 Incredibly, MTV cameras were there to capture this pensive moment.
"I had no idea you were leaving so soon," Whit says, and it's hard to tell if she's sad, relieved or a little of each (follow this link for a comprehensive recap of The City).
"I just thought, 'Why not like rip it off like a Band-Aid and just get it over with?'" Roxy says. "I can't really take the tension here. I'm going to stay with a friend for now."
Packing her bags in haste, Roxy says she thought Whitney would be happy she's leaving, but Whitney tells her they still have unresolved issues. That's putting it mildly.
"I feel like we're leaving things on such a weird note, so I'm taken a little bit off guard but no hard feelings, I guess," says the fashionista as her BFF prepares to leave.
Whitney then offers to help Roxy with her luggage but she declines the offer. Does this mean she's leaving the show for good? That we'll probably find out on the finale.
Next week, same time, same place.
Meanwhile, Whitney Eve received a boost from Eclipse star Ashley Greene, who wore a jacket designed by our girl in Elle magazine. Erin Kaplan matched the two together.
No thanks to Olivia Palermo, of course. That snot tried to undermine Whitney's line, then sidestepped questions about the jacket when interviewing Ash. What a waste.
Steve Marsi is the Managing Editor of TV Fanatic. Follow him on Google+ or email him here.