The Real Housewives of New Jersey Review: "Youth Will Be Served"
Steve Marsi at .
This week's Real Housewives of New Jersey began on an ironic note.
A sweet family game of Monopoly takes on new meaning when one realizes that the kids probably manage money better than Teresa and Joe Giudice, who are bankrupt.
Let that be a lesson to viewers at home who love watching these rich people: These two have blown through millions of dollars they didn't have in the first place. Sweet!
At least it's their 10-year anniversary and the Giudices seem happy genuinely happy, though. Hey, money can't buy you class, anyway ... or so a wise woman once sang.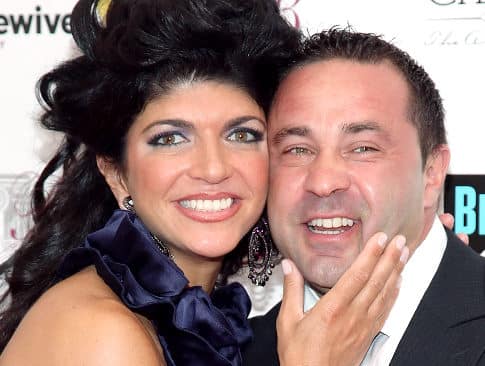 Teresa and Joe Giudice are all smiles despite agonizing fiscal woes.
Across town, at Danielle Staub's lair, she is hatching a plan ... to destroy evil nemesis Teresa once and for all, and make millions from the sales of Danielle Staub Raw.
Okay, not really.
Her plot is to celebrate her daughter Christine's 16th birthday without actually using any of her own money. She notes that she never had a birthday party until age 47.
This is likely because Danielle Staub has no friends. But moving on. Christine wants to donate any money she "earns" at the party to charity, which makes mom proud.
"My children are living by my example," she states, apparently seriously. 
Little sister Jillian, already a singer-songwriter at age 11, is planning her debut performance at the soiree. Mom is intent that Jillian sing in front of hundreds of guests.
Living by her example, indeed.
Jacqueline and her husband visit the Giudice financial house of cards. Discussion about Teresa's possible anniversary gift ensues. No one mentions a gift for Shirtless Joe.
"I want him to surprise me. I want him to really, like, make it big," Teresa says, without regret. Shirtless Joe slurs, "She wants this friggin' diamond ... I don't know." 
Bankruptcy. We're just saying.
Follow the link to continue reading our Real Housewives of New Jersey recap ...
Steve Marsi is the Managing Editor of TV Fanatic. Follow him on Google+ or email him here.